Summary
When an email is quarantined by Hosted Email Security (HES), it can be released to be delivered to the recipient in two different ways.
By the HES admin using the Administrator Web Console.
By the recipient using the End-User Quarantine (EUQ) console or the EUQ Digest mail (only if email was quarantined due to spam detection).
Normally, once an email is released from quarantine, the Mail Tracking Log will also be updated to show that the email has been delivered to the recipient's mail server. However, for released emails that were in quarantine for more than 7 days, the Mail Tracking Logs are not updated and does not show them as delivered.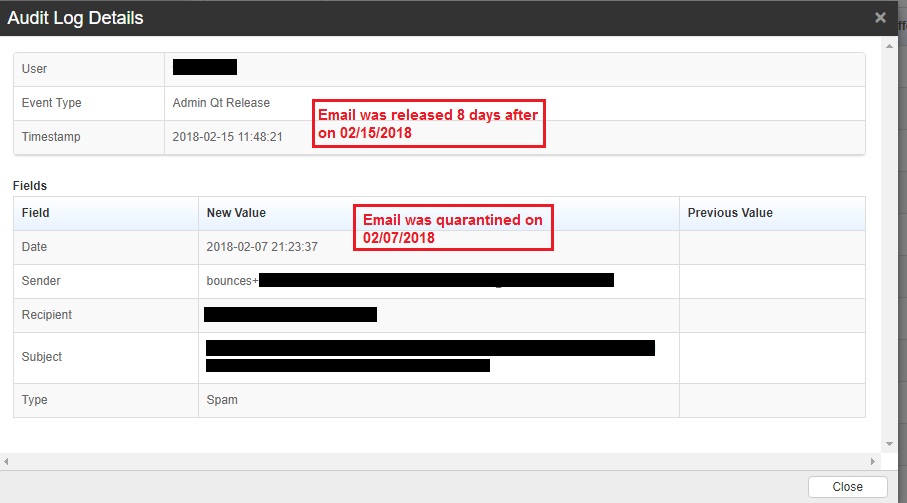 HES Audit Log showing email was released 8 days after getting quarantined

Mail Tracking Log showing no "Delivered to" address
Mail Tracking Log details are still showing mail as quarantined and no "Delivery" details after it was released
Details
Public
This is a limitation on HES Mail Tracking Logs. Currently, mail tracking query supports only up to a 7-day time range. Consequently, HES mail tracking can only correlate mail tracking events for the same email for up to only 7 days.
In this case, since the email was released after more than 7 days since it was quarantined, HES can no longer combine the initial mail tracking log (when the email was first received) with the quarantine release log. As a result, the situation described above happens.
Additionally, there will be no mail tracking log entries for the quarantine release action.
Internal
Partner