Summary
The following error occurs when changing the Activation Code:
Unable to update the Activation Code for the Time-of-click Protection service.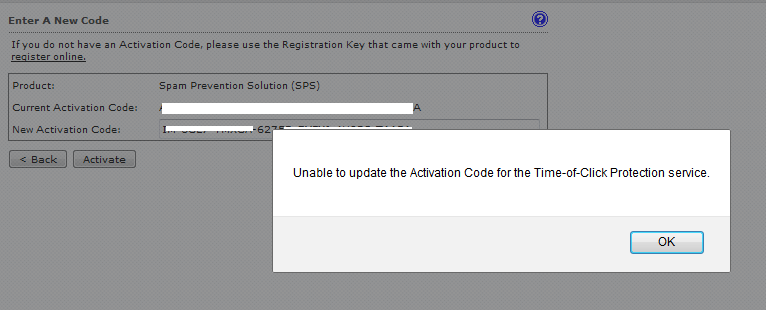 When using time-of-click protection, the Activation Code is required to be sent to the time-of-click web service. The web service then returns an API key. This process can be considered as the registration. One Activation Code is mapped to only one API key, but can share multiple AC codes.
For instance, if you use Activation Code 1 to register, then you will get API key 1. Then another one uses Activation Code 2 to register and gets API key 2. If you want to change your Activation Code 1 to Activation Code 2, IMSVA has to update the activation code for your time-of-click API key. In this case, mapping Activation Code 2 to API key 1 would not be possible because Activation Code 2 is already mapped to API key 2. Activation Code 2 can only have one API key mapping.
Details
Public
To resolve this issue:
Log on to the OS shell of the machine which fails to update the Activation Code.
Log on to the IMSVA shell and execute the following,

/opt/trend/imss/PostgreSQL/bin/psql imss sa

Execute the following SQL statement,

delete from tb_global_setting where section='click_protection' and name='ws_api_key';

Activate using the new Activation Code. Open the web console and navigate to Administration > Product Licenses.
Access the Time-of-Click Protection page again to register with time-of-click web service.
Internal
Partner