Summary
Okta is a service which offers secure identity management and single sign-on to any application.
This article gives the procedure of integrating with Okta, and this procedure can be applied on on-premise TMCM, Apex Central and Apex One as a Service.
Based on the content of this article, it is also possible that customers can figure out how to connect to other Identity Providers (IDP).
Details
Public
Integrate Okta with AD. Do the following:

Go to Directory > Directory integrations page.
Click Add Active Directory, then follow the instructions provided.

Go to Directory > Profile Editor page.

Configure the AD user profile mappings to enable the Okta account attributes, and be able to convert into a NETBIOS domain user account name.

Create a new application for every individual Apex Central or TMCM instance.

Select SAML 2.0 as the Sign on method.

Provide the information under General Settings.

Configure SAML Settings (IMPORTANT)

Single sign on URL: https://<host-to-your-TMCM>/WebApp/login.aspx
Audience URI: https://<host-to-your-TMCM>/WebApp/login.aspx
Add one customized attribute:
Attribute name: http://schemas.microsoft.com/ws/2008/06/identity/claims/windowsaccountname
Value: NETBIOS domain account name that TMCM can recognize. It is typically under the form of "<your_domain>\<login_name>"
For example: 'WIN2016-AD\' + user.samAccountName

Download the Okta Certificate and rename the file extension from .cert to .cer for later use (CM will check file extension).

Save the changes.
Assign AD users who can login to TMCM.
Apex Central / TMCM must be configured to integrate with on-premise AD first.
For Apex One as a Service, please use the Active Directory synchronization tool to integrate the on-premise AD.
Select and grant the AD Users/Groups who should be able to login from Okta to TMCM. Do the following:

Go to Administration > Account Management > User Accounts > Add.

Download the certificate from Okta application and upload to TMCM.

On-premise TMCM: please set it into the SystemConfiguration.xml - m_ADFS_IdpServerCerificate manually.

Disable AD authentication after Server certificate was set.
Initiate the SAML connection by logging in with a user who is granted with the access to the TMCM service. Click the application TMCM to initiate a single sign on to the TMCM.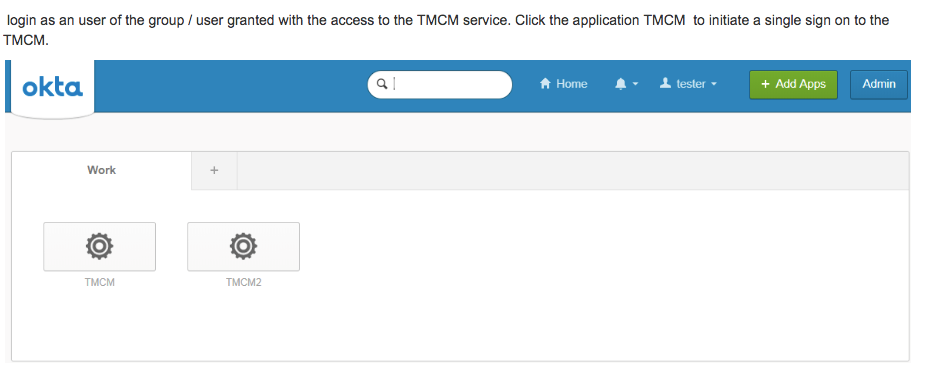 Internal
Partner