Summary
The following error message appears when starting the Control Manager (TMCM)/Apex Central Management Infrastructure Service.
The Trend Micro Management Infrastructure service on Local Computer started and then stopped. Some services stop automatically if they are not in use by other services or programs.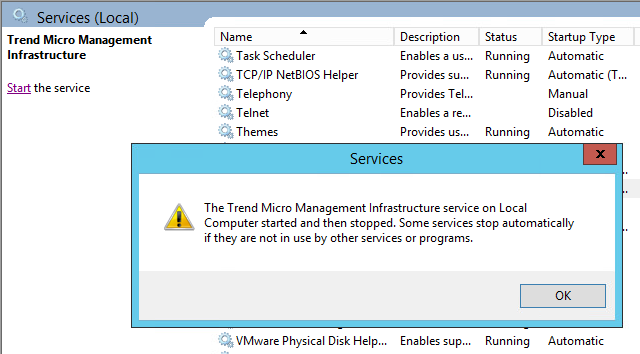 Accessing the web console shows "HTTP Error 503. The service is unavailable.".

In addition, the TMCM_ProgramManager.log file shows the error below:
[Warning], !!! File SystemConfiguration.xml is empty
Details
Public
To resolve this issue, replace the SystemConfiguration.xml file:
Stop the Trend Micro Control Manager/Apex Central Service.
Get a new systemconfiguration.xml file by doing any of the following options:

Restore a backup copy from any Case Diagnostic Tool (CDT) log file collected previously.
Submit the following to Trend Micro Technical Support:

Query result on SQL DB using "select * from tb_SystemConfiguration"
TMCM Build Version found in this registry hive:
HKEY_LOCAL_MACHINE\Software\WOW6432Node\TrendMicro\TVCS
Key: BuildVersion

Back up and replace the current systemconfiguration.xml with the new one generated from the previous step.
Start the Trend Micro Control Manager/Apex Central Service.
Start the Trend Micro Management Infrastructure.
Internal
Partner