Summary
To service the different levels of Administrative expertise efficiently, the new WFBS-SVC UI comes tailor-made with an always-on best practice defaults classic mode. In this mode, all critical protections enabling them by default.
While the Classic UI provides definite ease of use advantage, our new Advanced UI setup enables our administrators to define very complex policies all the way down to the user, OS version, IP range or the device level.
This article enumerates the steps on how to switch between the Advanced Mode UI and Classic Mode UI.
Details
Public
Standalone Customer Licensing Portal (CLP) based WFBS-SVC accounts except Japan customers have the option to switch to Advanced Mode UI.
Licensing Management Platform (LMP)-based WFBS-SVC accounts including standalone CLP-based WFBS-SVC accounts registered in Trend Micro Remote Manager (TMRM) currently do not have the option to switch to the Advanced Mode UI.
To switch to the Advanced Mode User Interface:
To learn more about configuring policy settings in Classic Mode UI and Advanced Mode UI, refer to the Configuring Policy Settings in Classic Mode User Interface and Configuring Policy Settings in Advanced Mode User Interface How-to Videos.
Hover your mouse to the Help icon at the top of the web console and click How-to Videos.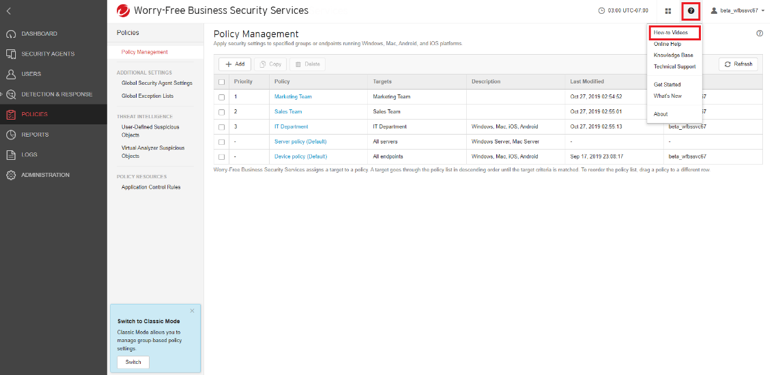 Internal
Partner