Summary
When a legal application continually triggers Malicious Behavior/Detections by Behavior Monitoring policies, follow the steps below to collect the required debug information and contact Trend Micro Technical Support for further assistance.
In OfficeScan, the detection will keep on popping up whenever the application is launched. For example: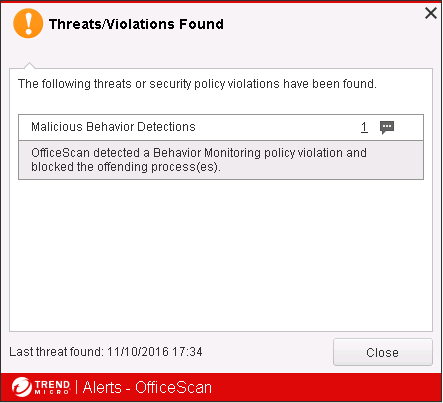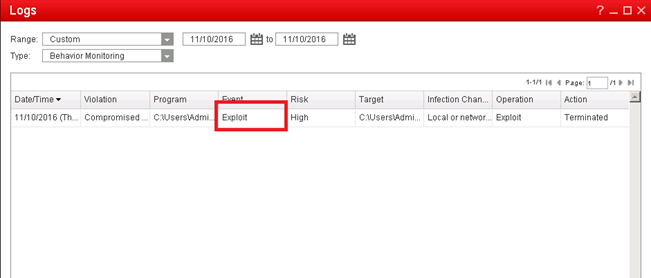 In the Worry-Free Business (WFBS) series, the application is terminated without an agent side notification, but it can still be checked in the Behavior Monitoring log. For example: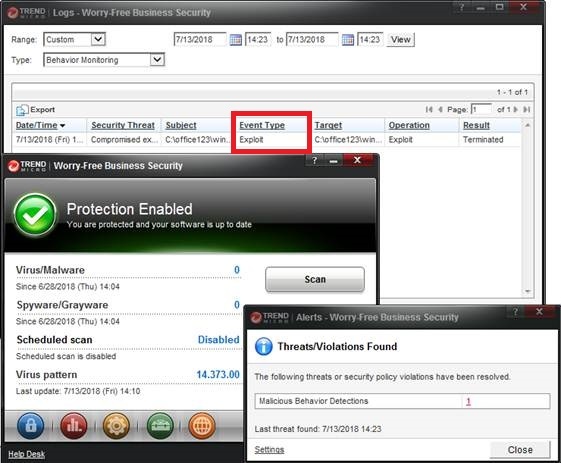 Details
Public
To collect debug log information:
Apply one of the following patches to update SAEGIS >= 2.976.2226 and tmsysevt >= 7.0.1169:
OfficeScan XG SP1 Patch 5400 or later
OfficeScan XG Patch & WFBS 9.5 Patch TBD
The dump can be collected by following the details in this section. If you are unable to apply the patches, please contact Trend Micro Technical Support directly for further assistance.
For checking the component:
BM folder location: %ProgramFiles%\TrendMicro\BM (x86 OS) / %ProgramFiles(x86)%\TrendMicro\BM (x64 OS)
SAEGIS - Check BM folder
tmsysevt - Check BM\Eyes\ folder
Stop the agent.
Set the following registry key:

[HKEY_LOCAL_MACHINE\SOFTWARE\TrendMicro\AEGIS]
EnableExploitDump=DWORD:00000001

Start the agent.
Replicate the issue.

The dump file can be found in the BM\Debug folder.

Stop the agent.
Remove the registry key from Step 2.
Start the agent.
Use the Case Diagnostic Tool (CDT) and check "Collect AEGIS debug information".

Once debug mode is enabled by CDT, reproduce the issue and confirm when the detection was triggered again.
Stop CDT debug mode and collect the compressed log package.
Provide feedback to Trend Micro Technical Support.
​
Internal
Partner