Summary
When you deploy the Apex One Vulnerability Protection Policy, you may encounter the Policy Error Code: 201512009. The Policy Deployment page shows the following: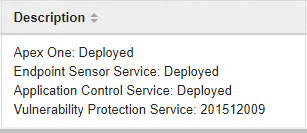 From vp_agent[X].log:

[VPENG][CVPControl::ServiceInstall:1022] InstallOrUpdateDriver fails, ret=201512009
This issue only happens in a Windows 7 environment, which has a restriction on a number of network drivers; the default value is 8 and the maximum allowed value is 14.
Details
Public
To resolve this issue:
Go to HKEY_LOCAL_MACHINE\SYSTEM\CurrentControlSet\Control\Network.
Modify the MaxNumFilters registry key value and increase the limit.
Deploy the policy again.
Internal
Partner