Summary
After a fresh installation of the OfficeScan server on a Virtual Machine (VM) server, the OfficeScan Master Service is in "Stopped" state and cannot be started, with the following error:
Windows could not start the OfficeScan Master Service service on Local Computer.
Error 1053: The service did not respond to the tart or control request in a timely fashion.
From the ofcdebug.log, the following error shows that the DBServer.exe failed to initialize:

[OFC_SERVICE][ofcservice.exe][install][ofcservice][InitService]fail WaitDbServerReady, will return FALSE - [msosv_OfcService.cpp(2921)]
   [OFC_SERVICE][ofcservice.exe][uninstall][ofcservice][terminate]in terminate()... - [msosv_OfcService.cpp(3347)]
  ..
  .
  [OFC_SERVICE][ofcservice.exe][uninstall][ofcservice]Shut down DbServer - [msosv_OfcService.cpp(3546)]
The following Event Logs indicates that the DBServer.exe failed to initialize due to memory exhaustion: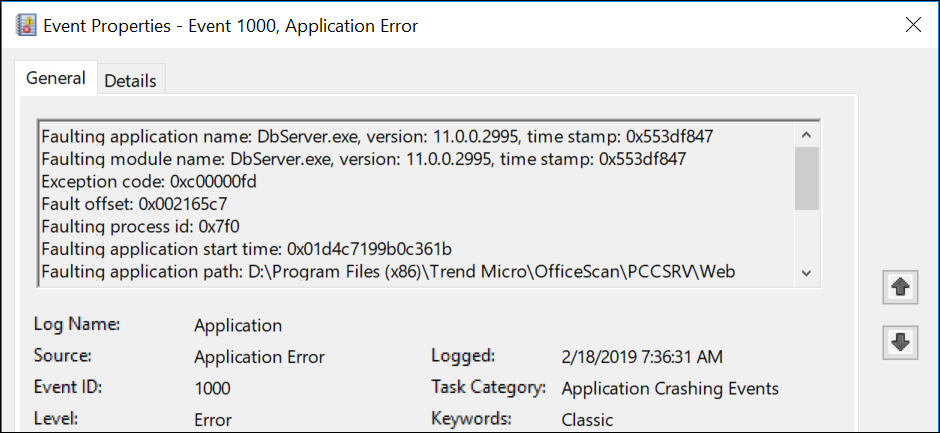 Details
Public
From the logs above, the following applications using most of the available memory are as follows:
TrustedInstaller.exe (59793940484 bytes or 5.9GB RAM)
svchost.exe (1608499200 bytes or 1.6GB RAM)
The DBServer.exe only needs 551MB (551055360 bytes) of memory to load, which the server failed to allocate for the said service.
To solve this issue, you may apply either or both of the following options to resolve this issue:
For the TrustedInstaller.exe that constantly uses 80% of RAM, help from the MS Support Team is needed to identify which parent application is causing this process to load. There is a similar issue in the web as shown in the link below stating that it may be related to a virtual desktop application such as Citrix:
Increase the VM's virtual memory. This approach is easier to do. Perhaps you can do this as an interim solution to be able to bring the OfficeScan server online while waiting for the MS Support Team to help us resolve the issue with the TrustedInstaller.exe high memory consumption.
You may also attempt to reboot the VM Image and observe if you can reclaim available memory to allocate for the DBServer.exe.
Internal
Partner