Summary
This article provides the steps on how to configure the Routing Mode of Cloud Edge to serve two isolated internal networks.
Users of the two internal networks can access the Internet through Cloud Edge, but each has their own DHCP service and are isolated from each other.
Details
Public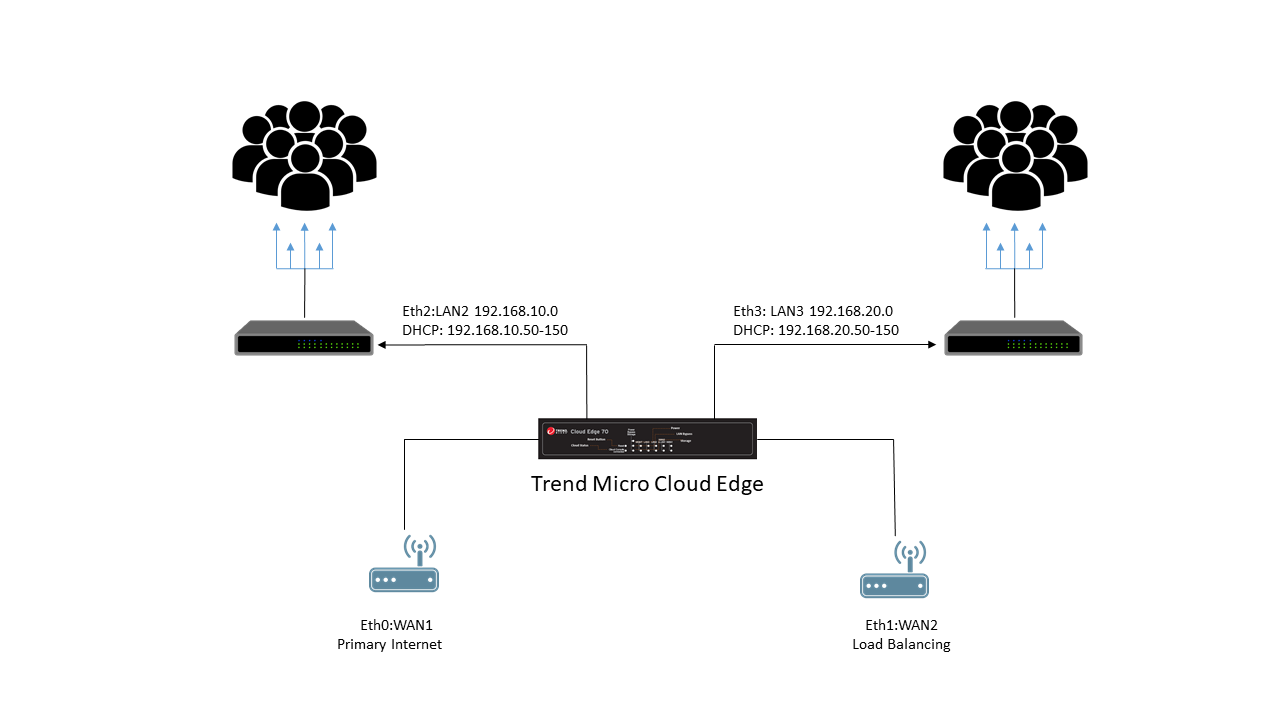 Access Cloud Edge On-Premises console, go to Network > Interface.
Set up the eth0:WAN1 interface using either Static, DHCP or PPPoE.

 

Alternatively, you can set up the eth1:WAN2 interface if you have a second ISP uplink. Network traffic would load balance between WAN1 and WAN2 on dual WAN setup.

Access the Cloud Edge Cloud console, then go to Gateways > Choose Gateway > Interfaces.
Setup eth2(LAN2) and eth3(LAN3) with static IPs. This would serve as the LAN gateway.

Under the same gateway, go to DHCP and configure both eth2(LAN2), and eth3(LAN3) for DHCP services.

Create additional SNAT rule if box is configured for Dual WAN. Do the following:

 

SNAT is created by default for eth0 when box is switched to Routing mode, and it is needed to create additional SNAT for eth1 (Dual WAN setup).

Under the same gateway go to NAT, and create SNAT rule for eth1.

Add Policy Rules to block all traffic from subnet 192.168.10.0/24 to subnet 192.168.20.0/24, and vice versa. Follow the steps below:

Go to Policies > Policy Rules.
Click the Add button, and add provide the information to create the new policy. The "Deploy policy" button will appear after adding the policy.
Internal
Partner