概要
The Trend Micro Online Forum is a great place to get answers for your product and security questions. Learn from product and security experts and knowledgeable administrators --- specialists who use the products and encounter security and technical topics daily.
詳情
Public
Who can join and participate in the Forum?
Anonymous users can view the interactions (questions, answers, comments) within the Forum. If you have a MySupport account in the Business Success Portal, you will be able to post, ask questions, comment, or react in the thread.
Searching for information
The main landing page features a search bar that automatically suggests topics based on the keywords you entered. If you cannot find what you are looking for, click Sign in to ask the community and post your inquiry there.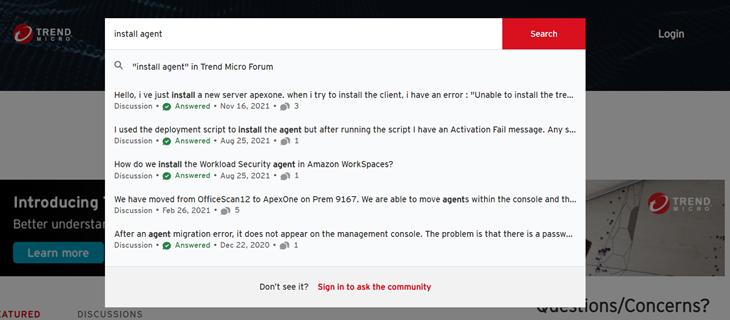 Looking for discussions on specific product?
You can click Topics and select the product that you are interested in and then browse, search, or post a question if you cannot find what you are looking for.

How do I filter discussions?
You can sort discussions based on popularity, newest post, or the latest comments by clicking the dropdown button under Sort by.

You can also filter the discussions for Unanswered Questions, Questions with no best answers, and Questions with the best answer (recommended).

In most cases, we recommend that you select the Questions with the Best Answer as they contain the correct answer immediately after the question. No need to read through all the lengthy discussions.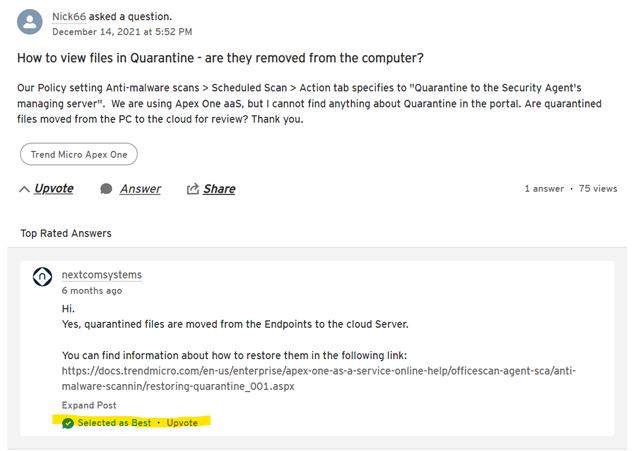 How do I participate in the discussion?
You can "Upvote" a question if you have a similar question. This increases the urgency of the question. The upvote function also promotes the question or the answer to get the attention of forum members.
If you have the answer to the question or if you have a clarification to the original question, click Answer. If you wish to send the discussion to a colleague, click Share. You can share to a group, to your followers, or copy the link and send it via email, messenger, etc.

Have a question?
Click Ask a question. Make sure your post is specific, clear, and complete. Include any error messages, system information, and recent software or hardware changes when you post.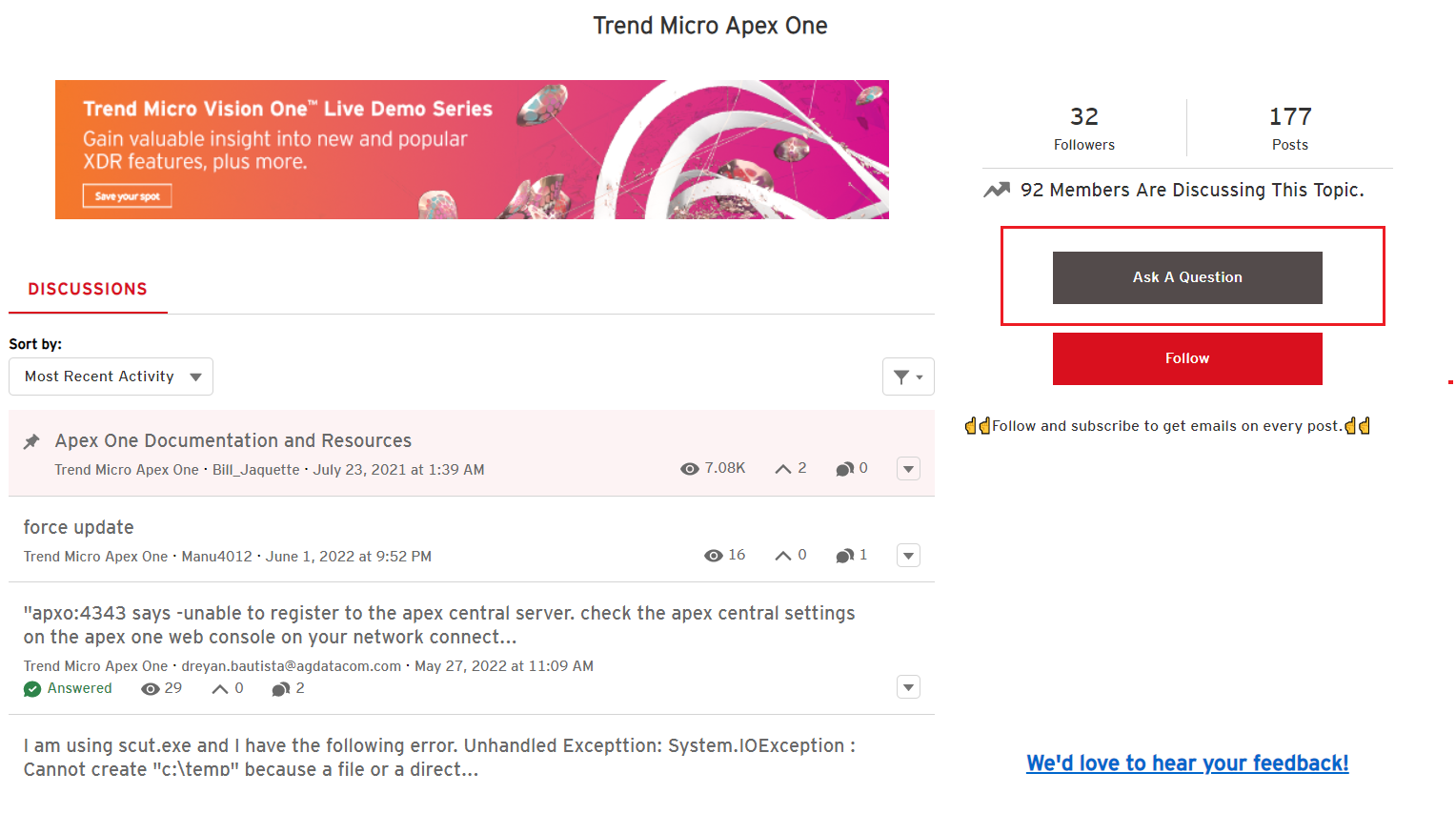 What are the general rules or guidelines when participating in the forum?
Participants are expected to maintain a positive environment and encourage productive conversations in this forum.
Post comments/replies in a courteous and respectful manner.
Do not post anything offensive or harmful to other members, or other products/services.
Post relevant comments and always stay on topic.
Refrain from posting topics that are not related to Trend Micro products. When posting 3rd party products or services, make sure that it is related to the topic at hand.
If members want to shift to a different topic, please create a separate thread.
Do not post any information in the Forum that is not for public consumption. Posting personal/sensitive information is not allowed.
Refrain from spamming/flooding or posting advertisements of third-party products/services.
Any violation of the above guidelines will be subject to Moderator action.
For any comments, concerns, or questions, feel free to reach us through this
link
.
Internal
Partner