概要
Ten months after its massive takedown in January of 2021, Emotet is back and seeking resurgence. This malware, which first appeared in 2014 as a banking trojan, attempts to infect computers and steal sensitive information. It spreads through spam emails (Malspam) via infected attachments and embedded malicious URLs. In some of its spam campaigns, the emails commonly have a financial theme and appear to come as a reply to a previous transaction by using fake payment remittance notices, invoice attachments, or payment details.
Fast forward to November 2021, the Trickbot banking trojan was observed to download and execute updated Emotet binaries to computers previously infected with Trickbot with macro-laden Microsoft Excel, Microsoft Word, and a password-protected ZIP archive containing a Word document as payloads, marking the resurgence of the highly known sophisticated threat.
Emotet evolved multiple times over the years since 2014, and turned its operations into a successful crimeware rink. It provides Malware-as-a-Service (MaaS) to other malware groups to rent access to the Emotet-infected computers to infect them with other malware such as TRICKBOT, QBOT, and RYUK Ransomware. For this reason, it has been known to be one of the most professional and most potent cyberthreats in history.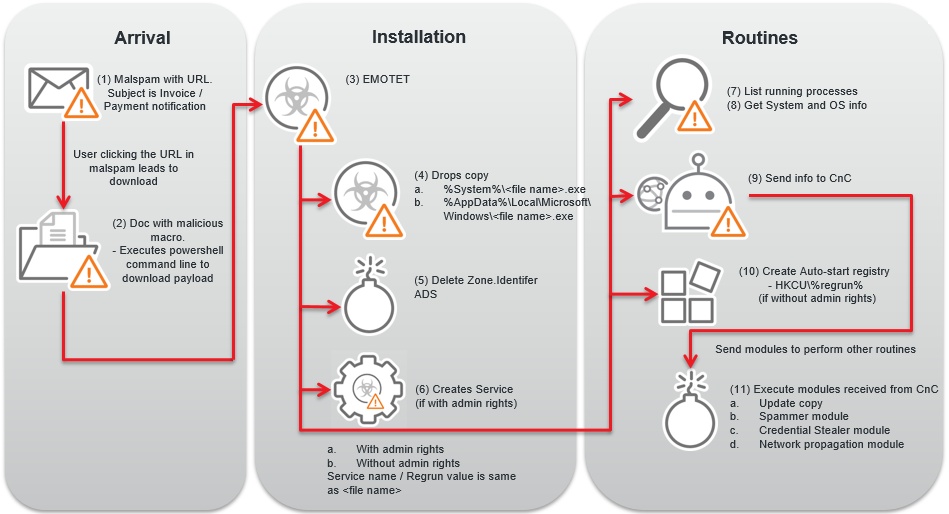 詳情
Public
BEHAVIOR
Delivers more dangerous payload such as Ryuk ransomware by renting Emotet-infected machines to other malware groups.
Steals computer data, computer name, system local, operating system (OS) version and running processes.
Steals User credentials, financial and banking information.
Steals usernames and passwords of different mail clients.
Executes backdoor commands from a remote malicious user to connect to malicious websites for sending and receiving information.
CAPABILITIES
Information Theft: Yes
Rootkit Capability: Yes
File Infection: Yes
Propagation: Yes
Download Routine: Yes
INFECTION CHAIN

IMPACT
Compromise system security - with backdoor capabilities that can execute malicious commands.
Violation of user privacy - gathers and steals user credentials of various applications.
AVAILABLE SOLUTIONS
Solution Modules
Solution Available
Pattern Branch
Release Date
Detection/Policy/Rules
Email Protection
Yes
AS Pattern 4134
4-Oct-18
Spam
AS Pattern 4934
26-Sep-19
URL Protection
Yes
In the Cloud
Malware Accomplice, Disease Vector, Ransomware
Predictive Learning (TrendX)
Yes
In the Cloud
BKDR.Win32.TRX.XXPE50F13005
Ransom.Win32.TRX.XXPE50FFF027
TROJ.Win32.TRX.XXPE50F13005
TROJ.Win32.TRX.XXPE50F13005R2D6F
Ransom.Win32.TRX.XXPE50F13005
Downloader.VBA.TRX.XXVBAF01FF005
Troj.Win32.TRX.XXPE50FFF031
Downloader.VBA.TRX.XXVBAF01FF005
TSPY.Win32.TRX.XXPE50FFF050E0002
File detection (VSAPI/Smart Scan) and Advanced Threat Scan Engine (ATSE)
Yes
OPR 14.541.00
2-Oct-18
TSPY_EMOTET.THJOBAH
TSPY_EMOTET.THOIBEAL
TSPY_EMOTET.OIBEAL
TSPY_EMOTET.THJOAAH
TSPY_EMOTET.THAOOAAH
TSPY_EMOTET.THOIBEAK
TSPY_EMOTET.OIBEAJ
TSPY_EMOTET.THIBGAH
TSPY_EMOTET.THOIBEAI
PDF_EMOTET.THIBOAH
PDF_EMOTET.THIAGAH
OPR 15.375.00
20-Sep-19
TrojanSpy.Win32.EMOTET.SMCRS
TrojanSpy.Win32.TRICKBOT.SMB1.hp
Trojan.W97M.POWLOAD.TIOIBEFV
TrojanSpy.Win32.EMOTET.THIAHAI
OPR 15.391.00
25-Sep-19
TrojanSpy.Win32.EMOTET.SMTHF
Trojan.JS.EMOTET.TIABOFCF
Trojan.W97M.EMOTET.AFKJ
Trojan.Win32.EMOTET.CFO
Trojan.XML.EMOTET.AFJO
TrojanSpy.Win32.EMOTET.THIBFAI
OPR 17.201.00
19-Nov-21
TrojanSpy.Win32.EMOTET.SMYXBKO
OPR 17.203.00
20-Nov-21
TrojanSpy.Win32.EMOTET.SMYXBKP
OPR 17.211.00
24-Nov-21
TrojanSpy.Win32.EMOTET.SMYXBKVZ
Behavioral Monitoring (AEGIS)
Yes
TMTD OPR 1797
15-Jun-18
2980T
TMTD OPR 1877
4-Mar-19
FLS.LDX.4555T
Network Pattern
Yes
HTTP_EMOTET_REQUEST-5
HTTP_EMOTET_REQUEST-4
Deep Discovery Inspector Rule
Yes
Rule 1541: EMOTET - HTTP (Request)
Rule 2608: EMOTET - HTTP (Response) - Variant 2
Rule 2701: Possible EMOTET - HTTP (Response) - Variant 3
Rule 2897: EMOTET - HTTP (Request) - Variant 4
Rule 4232: EMOTET - HTTP (Request) - Variant 5
Tippingpoint Filter Rule
Yes
28409: HTTP: Emotet Checkin Request
RECOMMENDATIONS
For support assistance, contact Trend Micro Technical Support.
Threat Report
Blogs
Internal
Partner