Summary
An issue has been found in Deep Discovery Inspector (DDI) version 5.5 where a detection exception list that is configured via the web console will not be carried over from the previous version 5.1 during upgrade.
Affected Version
This issue only occurs when upgrading DDI version 5.1 to version 5.5. Both English and Japanese versions are affected.
Details
Public
DDI 5.1 has redesigned a feature named Detection Exceptions, which would let users configure a list of exception criteria so detections that match any of the enabled criteria will not be recorded.
The issue occurs because the process of checking the new configuration was not fully covered within the version 5.5 upgrade package. As a result, DDI shows an empty Detection Exception list after migrating to DDI 5.5. It has been observed that the restore function on the DDI 5.5 web console will also fail to work even after importing the backup file from DDI 5.1.
Recommendation
The issue will be fixed in upcoming repack build for migration to DDI version 5.5. The original upgrade file download link will be temporally removed from the download center and another advisory will be sent out when the new upgrade package repack build is available.
For users who have already planned a date to migrate DDI from version 5.1 to version 5.5 and has downloaded the upgrade file, Trend Micro suggests that you must first manually export the detection exception list from DDI version 5.1 web console, and then import it back after upgrading to DDI version 5.5.
To export and import detection exception list, on the DDI web console, go to Administration > Monitoring /Scanning > Detection Exceptions.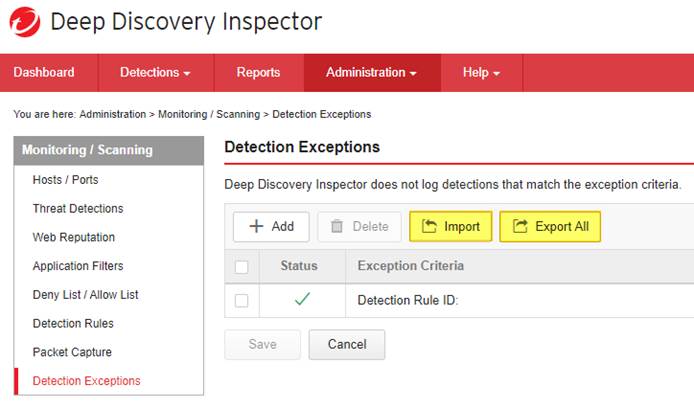 Should you have any questions or concerns, contact Technical Support directly or your assigned Customer Service Manager.
Internal
Partner