Summary
This article lists the different icons that can be shown by the Security Server and Agent of Apex One, and their description.
Details
Public
Security Server
The Apex One agent tree icons provide visual hints that indicate the type of endpoint and the status of Security Agents that Apex One manages.
| Description | Icon |
| --- | --- |
| Domain | |
| Root | |
| Update agent | |
| Conventional scan agent | |
| Smart scan available Security Agent | |
| Smart scan unavailable Security Agent | |
| Smart scan available update agent | |
| Smart scan unavailable update agent | |
Security Agent
The Security Agent Console Flyover opens when you hover your mouse pointer over the small icon on the bottom right of the Security Agent console.
The following table lists the Console Flyover icons and their meanings:
Feature
Icon
Description
Connection

Connected to Apex One Server

Not connected to the Apex One server, but real-time scan is still running. The pattern file may not be up to date. Right-click the agent icon in the Windows Task Bar and click Update Now.

Independent mode enabled. The user may have initiated Independent mode manually (if the appropriate permissions have been granted) or the Security Agent is outside the company network.
Location
N/A

Internal: Connected to the Apex One server
External: Not directly connected to the Apex One server

Real-Time Scan

On

Off
Smart Scan

Connected to the Scan Server

Connected to Trend Micro Smart Protection Network

Unable to connect to the Scan Server or Smart Protection Network; protection is reduced as Security Agents are unable to send scan queries.
Contact Trend Micro Technical Support for further assistance.

Smart Scan is disabled. Using Conventional Scan
Application Control

On

Lockdown: Only applications installed during the last inventory scan or that the administrator added to an Allowed rule can execute

Off
All Other Features

On

Off
The following image shows the Security Agent Console with everything up-to-date and working properly: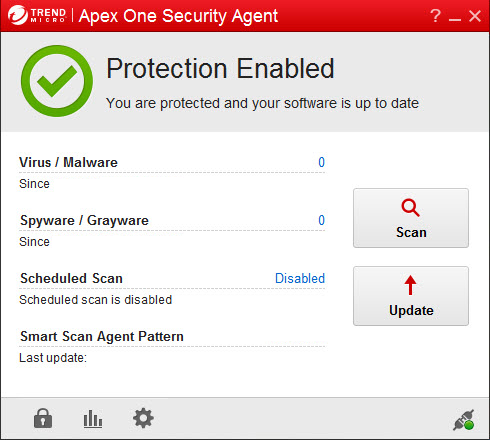 Icon
Status
Description

Protection Enabled: You are protected and your software is up to date
The software is up-to-date and running properly. No action is required.

Restart Computer: Restart the computer to finish fixing security threats
The Security Agent has discovered threats that it cannot fix immediately.
Restart the endpoint to finish fixing these threats.
Protection at Risk: Contact your administrator
Real-time Scan is disabled or protection is at risk for another reason.
Enable Real-time Scan and if this does not solve the problem, contact Support.

Update Now: You have not received an update in (number) days.
The virus pattern is older than 3 days.
Update the Security Agent immediately.
Endpoint Isolated: Suspicious connections detected on your endpoint.
The Security Agent detected connections that may indicate a targeted attack and the endpoint no longer has network access.
Contact your Apex One or Apex Central administrator to restore network connectivity.

Smart Scan Not Available: Check your Internet connection
The Security Agent has not had access to the Scan Server for over 15 minutes.
Ensure you are connected to your network in order to scan with the latest patterns.
Restart Computer: Restart your computer to finish installing an update
Restart your endpoint to finish an update.
Updating Program: Your security software is updating
An update is in progress. Do not disconnect from the network until finished.
Internal
Partner