Summary
In vSphere Web Client under Networking & Security > Installation > Service Deployments, the DSVA installation status indicates "Failed" and the NSX license is the free tier - NSX for vShield Endpoint.

When clicking "Failed", you see the following message:
"Following service(s) need to be installed successfully for Service Trend Micro Deep Security to function: VMware Network Fabric"
Check your NSX license if it is NSX for vShield Endpoint.

VMWare Reference: Trend Micro Deep Security Service Deployment "Missing Dependencies" for VMware Network Fabric (2151817)
Details
Public
You can safely ignore the alert and force the DSVA deployment by clicking Failed and then Resolve.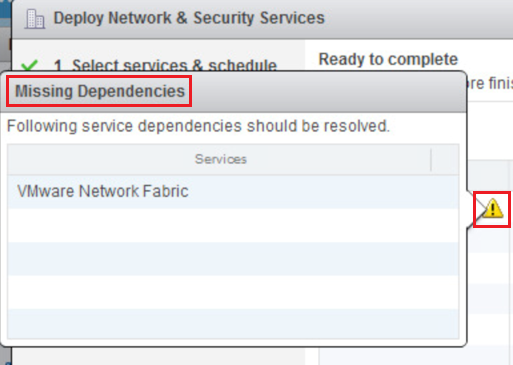 For further information, refer to this KB article, Compatibility issue between Deep Security and NSX 6.2.3 (or higher).
Before Deep Security Manager 11.0, when deploying DSVA from NSX manager with NSX for vShield Endpoint license, the "VMware Network Fabric" missing dependency alert will pop up. It is suggested to ignore the alert. The DSVA deployment will be successful, but the status of Trend Micro Deep Security still shows "Failed". You can ignore it as no Deep Security function actually fails.
Internal
Partner