Summary
In August 2020, the threat actor group Carbon Spider, associated with the ReVil group, introduced a new ransomware called Darkside. It was later offered as a RaaS in November 2020. It uses a variety of methods to gain initial access to its target system, specifically through phishing, Remote Desktop Protocol (RDP) exploitation, Cobalt Strike, and other exploits. Once it gains a foothold, it moves to the Domain Controller (DC), where it proceeds to steal credentials as well as other valuable assets for data exfiltration. It then continues its lateral movement through the system, eventually using the DC network share to deploy the ransomware to connected machines.
Darkside, which is being offered via the ransomware-as-a-service (RaaS) model, has already been deployed against critical infrastructure in the United States. It uses a "double extortion" technique where the attackers threaten to release sensitive information in addition to encrypting data on their victim's machines.
Capabilities
File Encryption
Data Exfiltration
Command and Control
Lateral Movement
Credential Stealing
Impact
Data loss - loss of important files, documents and other data upon encryption
Financial loss - users are asked to pay in order to decrypt files that were affected
Exfiltration of data
Infection Routine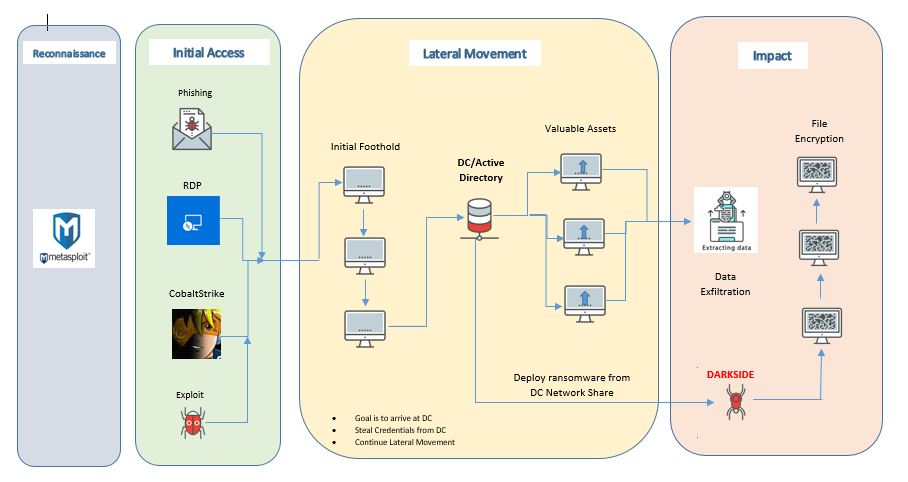 Details
Public
File Reputation
| SHA1 | DETECTION/POLICY/RULES | PATTERN BRANCH/VERSION | RELEASE DATE / LAST UPDATE |
| --- | --- | --- | --- |
| a3e7561de73378b453186a6c33858bf47577d69c | Ransom.Win32.DARKSIDE.SMYAAK-B | 16.402.08 | 2020-12-09T19:41:19Z |
| 7ae73b5e1622049380c9b615ce3b7f636665584b | Ransom.Win32.DARKSIDE.SMYAAK-B | 16.402.08 | 2020-12-09T19:41:19Z |
| c104056f9a926d27a2082f0510c97b09cb0eb3e5 | Ransom.Win32.DARKSIDE.SMYAAK-B | 16.402.08 | 2020-12-09T19:41:19Z |
| d1dfe82775c1d698dd7861d6dfa1352a74551d35 | Ransom.Win32.DARKSIDE.YXAH-THA | 16.170.06 | 2020-08-08T10:37:45Z |
Predictive Machine Learning
| DETECTION | PATTERN BRANCH/VERSION |
| --- | --- |
| Troj.Win32.TRX.XXPE50FFF036 | In-the-Cloud |
| Troj.Win32.TRX.XXPE50FFF038 | In-the-Cloud |
| Rapid Proliferation | In-the-Cloud |
Behavior Monitoring
PATTERN BRANCH/VERSION
RELEASE DATE
Malware Behavior Blocking
2020
Sandbox Detection
Tipping Point DV filter
Detection
Malware DV Filter 39754
Solution Map - What should customers do?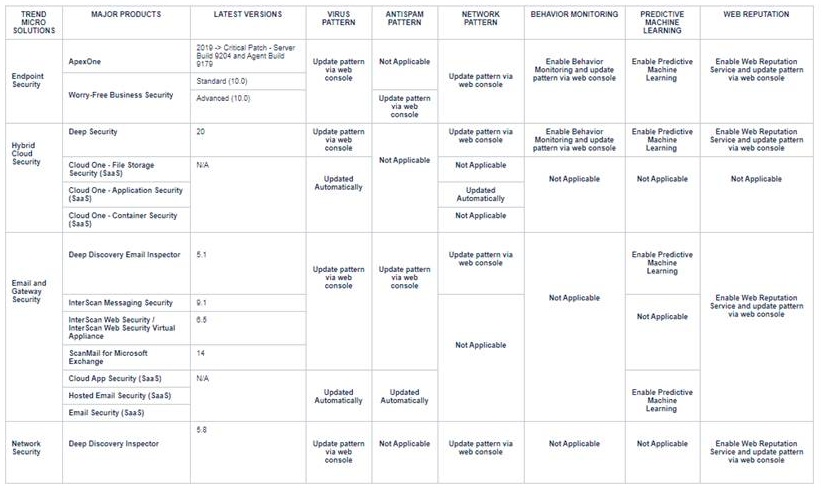 To update Trend Micro products, refer to the corresponding Online Help Center guides.
Recommendation
Make sure to always use the latest pattern available to detect the old and new variants of Darkside Ransomware.
Make sure to implement the ransomware protection features and best practices.
Threat Report
Internal
Partner