Summary
EIKON is a third-party software system used to monitor and analyze financial information. When TMWS Enforcement Agent is enabled, users are having issues logging into the program with the following error: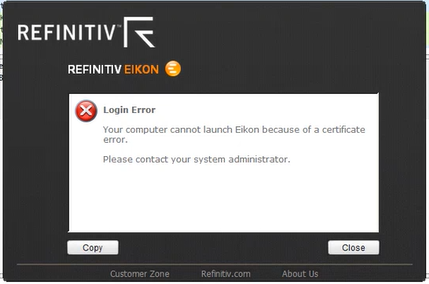 Click the image to enlarge.
Login Error
Your computer cannot launch Eikon because of a certificate error.
Please contact your system administrator.
Details
Public
If SSL/TLS decryption or inspection is implemented, it might break the certificate from Eikon servers and cause connectivity issues for the Eikon Desktop application. Therefore, it is recommended to allow the following domains thru the TMWS console. Do the following:
Login to the TMWS web console.
Go to Administration > SERVICE DEPLOYMENT, and select PAC Files.
Internal
Partner