Summary
Learn the different types of Security Agent icons in WFBS and their descriptions. 
Details
Public
There are three types of Security Agent icons in WFBS based on the places where they are located:

The following Agent Icons will display on the client computer's Windows Task Bar:
Icon
Meaning
Status is normal.
(Animated) This means that a scan is running, which can either be Conventional Scan or Smart Scan, or Manual Scan or Scheduled Scan.
The Agent is performing an update.

Action is necessary:

Realtime Scan is disabled.
Reboot is required in order to fully clean malware.
Reboot is required due to an updated engine.
Reboot required in order to restore files encrypted by ransomware
Update is necessary.

Note: Open the agent main console to see what action is required.
The agent console flyover will open when you hover your mouse pointer over the small icon on the bottom right of the agent main console: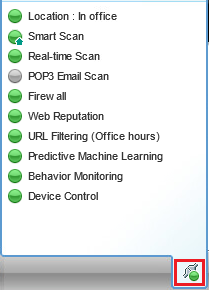 The following table lists the Agent Console Flyover icons and their meanings:
Feature
Icon
Meaning
Connection
Connected to the Security Server
Not connected to the Security Server, but real-time scan is still running. The pattern file may not be up to date. Right-click the tray icon and click Update Now.
Location
In Office
Out of Office
Real-Time Scan
On
Off
Smart Scan
Connected to the Local Scan Server
Connected to the Global Scan Server
Cannot connect to the Server, Smart Scan, or Trend Micro Smart Scan Server. The client is still protected under the local scan mode
Smart Scan is disabled. Using Conventional Scan.

Note: If clients are configured for Smart Scan but disconnected from the Smart Scan Server, verify that the Smart Scan service, TMiCRCScanService, is running and that your clients are connected to the Security Server.

POP3 Mail Scan, Firewall, Web Reputation, URL Filtering, Behavior Monitoring, Predictive Machine Learning, Device Control
On
Off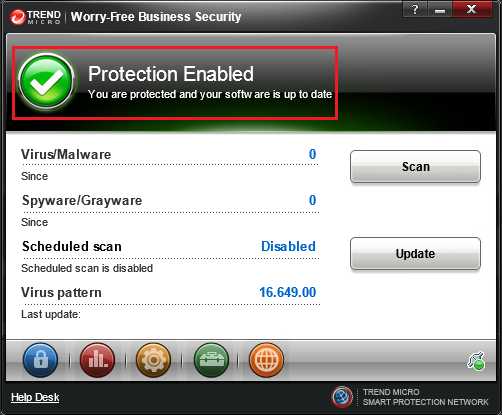 The following table lists the icons on the Agent Console Main User Interface and their meanings:
| Icon | Meaning | What you can do |
| --- | --- | --- |
| | Protection Enabled: You are protected and your software is up to date. | No action required |
| | Restart Computer: Restart the computer to finish fixing security threats. | The Security Agent discovered threats that it cannot fix immediately. Restart the computer to finish fixing these threats. |
| | Protection at Risk: Contact your administrator. | Real-time Scan is disabled or your protection is at risk for another reason. Enable Real-time Scan and if this does not solve the problem, contact Trend Micro Technical Support. |
| | Update Now: You have not received an update in (number) days. | The virus pattern is older than 3 days. Update the Security Agent immediately. |
| | Smart Scan Not Available: Check your Internet connection. | Security Agent has no access to the Smart Scan Server for over 15 minutes. Ensure that you are connected to your network in order to scan with the latest patterns. |
| | Restart Computer: Restart your computer to finish installing an update. | Restart your computer to finish an update. |
| | Updating Program: Your security software is updating. | An update is in progress. Do not disconnect from the network until finished. |
Internal
Partner