Summary
The following error message appears when installing PortalProtect:
Fatal error during installation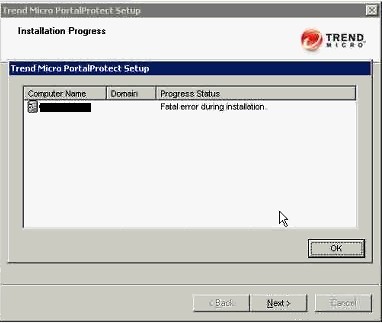 Details
Public
This commonly happens because of issues with the privileges used in either the SQL Server database or the target machine. Here are some items that you need to consider during installation:
Privileges for installation on the target machine
During installation, the account to launch the setup program must have local administrator privileges to where you launch the setup program. This account must have local administrator privilege to all the target servers where you plan to install PortalProtect.
If PortalProtect is installed on a farm environment, use a domain account as the administrator.
Important: Trend Micro strongly suggests using the local installation method.
Make sure that the following account privileges are explicitly granted as well:
Act as part of the operating system
Log on as a service
Restore files and directories
Back up files and directo ries
To set the privileges mentioned above on the target machines:
Go to Control Panel > Administrative Tools.
Navigate to Security Settings > Local Policies > User Rights Assignment.
Assign the rights as indicated above.
Privileges for PortalProtect Configuration Database
If your installation requires you to auto-create the PortalProtect configuration database, connect to the database with a minimum user privilege of dbcreator.
If the PortalProtect configuration database already exists, then only read/write access is required.
Internal
Partner