Summary
The Scan button in WFBS-SVC is unclickable so you are unable to do a manual scan.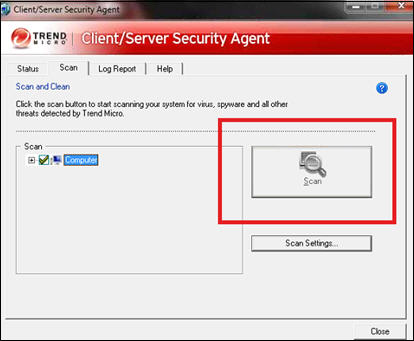 Details
Public
To resolve the issue:
Open your Client/Server Security Agent console.
Click Scan.
Make sure that the drive you wish to scan is checked.

The Scan button lights up.

If you cannot expand the Computer field, do the following:

Check My Computer and make sure that no floating drives or removable drives that had been ejected are still showing up.

Make sure that Microsoft Office Click-to-Run is uninstalled.

Note: Verify first if Microsoft Office 2010 is fully installed before removing Microsoft Office Click-to-Run.

Restart the computer.
Try to scan again.
If the issue still occurs, it is possible that WFBS-SVC for Dell still resolves the previous Explorer Orientation. Reinstall WFBS-SVC.
Internal
Partner