Summary
This article shows you how to retrieve the files you backed up in Trend Micro SafeSync if you need to:
Restore pairing or sync of backed up folder after you reformatted or restored your computer
Restore files unintentionally deleted from the Smart Drive or a SafeSync folder
Details
Public
Download and install your Trend Micro SafeSync client. Check this solution for instructions: How to download and install Trend Micro SafeSync.
Right-click the folder where you wish to recover the files from.
Select SafeSync, then select Make this a SafeSync folder.

Select Connect to an existing online folder in the Trend Micro SafeSync window.

Select the desired folder, then click Finish to start the restoration.
Go to the Trend Micro SafeSync website, then log in to your account.
Double-click the Recycle Bin.
Double-click the My Files folder to see if the deleted file is still there.

 

Items in the Recycle Bin are stored for 30 days until it is permanently removed.
Right-click the desired file or folder, then select Restore this file or Restore this folder.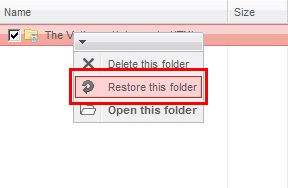 You may also drag-and-drop the desired file to any target folder at the left pane.
The file should have been restored after the sync up.
Internal
Partner