Summary
The OfficeScan server uses an internal database to store OfficeScan client configuration, logs, and information. In certain environments, centralized database storage may be required, which involves a full-blown relational database server, such as Microsoft SQL Server.
You want to know if it is possible to migrate the OfficeScan internal database to a full-blown SQL database server.
Details
Public
By default, OfficeScan 11.0 and XG use Codebase (same as the previous versions) to store OfficeScan agent configuration, logs, and information. This is recommended for small to mid-sized deployments in maintaining an all-in-one OfficeScan server to minimize the cost and administrative efforts. Using or migrating to SQL database should be considered due to the following reasons:
Higher reliability, security, and performance is required.
Database corruption issues may occur when using Codebase database.
You can take advantage of SQL database backups such as full backups and incremental backups.
There is a necessity to have a centralized database for multiple OfficeScan servers that can be managed by the SQL DB administrator.

 

Each OfficeScan server will be using one instance inside the SQL database.
To move the contents of the OfficeScan database to SQL server, use a standalone tool called sqltxfr.exe. To use this tool, follow the document about using the SQL Server Migration Tool.
After migrating to the SQL server, go to Administration > Settings > Database Backup to check if you are running on an SQL Server.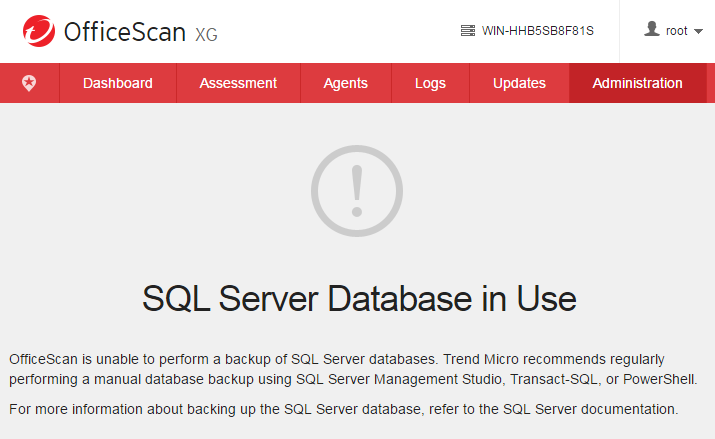 If you want to move from one SQL server to another SQL server using the sqltxfr tool, the bulkadmin, dbcreate, and db_owner roles are the minimum required permissions.
After migration, the dbcreator permission can be removed from the account privilege. However, the following permissions should be retained:
bulkadmin - This handles the log transfer from the OfficeScan server to SQL database. Without this permission, importing the client logs to the SQL database will fail.
db_owner - This allows OfficeScan to modify the tables within the database.
In addition, the user roles below should be kept in the account privilege. Removing these user roles causes OfficeScan Master server to fail.
logon as a service
logon as a batch job
Log on locally
When you change the account name or password after the SQL database migration, you can update the account credentials using the Switching to an existing database option from the SQLtxfr.exe tool. This tool will help you modify the account credentials even when the account name and password are already encrypted in a configuration file.
Passwords must meet the following minimum strength requirements:
Minimum length: 8 characters
Must contain at least 3 of the following:

Uppercase letters: A - Z
Lowercase letters: a - z
Numbers: 0 - 9
Special characters: !@#$^*?_~-();.+:
Internal
Partner