Summary
The error "Failed to complete setup. Propagatefile.exe failed with exit code: 65280" appears when executing the Core Protection Module (CPM) Automatic Update Setup Script.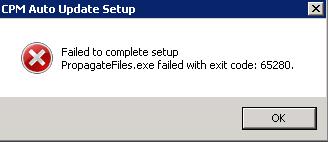 This issue does not happen with ESP/TEM Server 8.1 or earlier. It may impact customers who executed the task Core Protection Module - Install Server Components around December 2011 or who did not install latest components for a long time.
Details
Public
Site administrator credentials and password are necessary to run the CPM Automatic Update Setup Script. You cannot create a new console operator account without these credentials. Use the operator account to send a manifest of the latest available pattern file versions to your endpoints whenever new patterns are downloaded from Trend Micro.
To successfully run the CPM Automatic Update Setup Script:
Make sure the following requirements are met before executing the script on the server that hosts ESP and CPM:

Go to the default BESServer directory in C:\Program Files\BigFix Enterprise\BES Server\ and make sure that the propagateFile.exe version should be 8.2 if the server version is TEM 8.2.
Use an Administrator user with elevated privileges.

For example, on Windows 2008 the program must be invoked with elevated privileges or using the "Run as Administrator" option.

Ensure that the license.pvk and password are correct.
The license.pvk is generated when you install TEM/ESP server.

Download and install the latest CPM Automatic Update Setup Script from Endpoint Protection > Core Protection Module > Updates.
Select Core Protection Module – Download CPMAutoUpdateSetup Script on the top right pane or download the CPMAutoUpdateSetup Script from Trend Micro.
Internal
Partner