Summary
Resolve the issue where you get "Error: code 3" upon clicking on the WFBS-SVC Agent tray icon. Below is the full error message:
Your computer is installed with Trend Micro protection.
You have not yet activated this protection. If you are the administrator, go to the Worry-Free Business Security Services console to continue the activation. If you are the regular user, continue the activation by clicking the Activation link again in your email. (Error code: 3)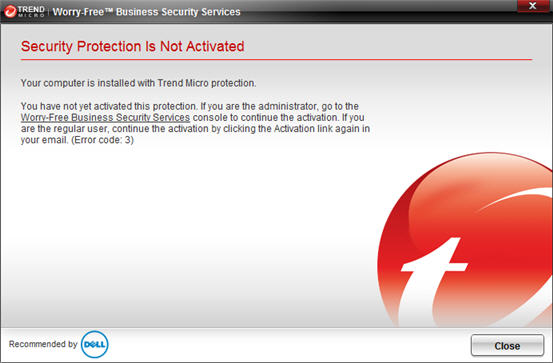 Details
Public
The error code occurs because you were not able to complete the WFBS-SVC Agent activation process during registration.
To resolve the issue:
Log in to the WFBS-SVC console.
Click Devices > Add Devices.

Click the Install button to activate or install the WFBS-SVC agent on the computer.

 
Internal
Partner