Summary
The Realtime Scan Settings of the OfficeScan server shows inconsistent configurations like the following:
On the Target Tab, under Files to Scan section the Files with the following extensions (use commas to separate entries): option, it shows "1".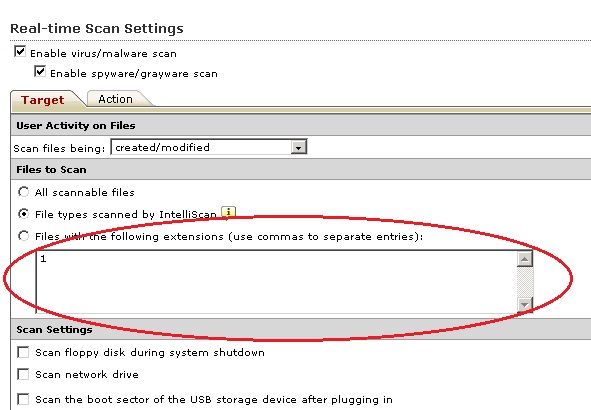 Click image to enlarge.
There are no Types and Actions displayed for the Use a specific action for each virus/malware type option in the Virus/Malware section of the Action tab. The Quarantine directory field also shows "1".
                                       Click image to enlarge.
Details
Public
The deformed and inconsistent settings happen when users are allowed to configure the OfficeScan client's Realtime Scan Settings. The inconsistent settings appeared because a file or a folder exclusion was added from the OfficeScan client console in the system tray. 
Configure the following to replicate the issue in your test environment:
Allow user to configure Realtime Scan Settings:

Log in to OfficeScan web console and go to Networked Computers > Client Management tab.
Select a domain or an OfficeScan client and click Settings > Privileges and Other Settings from the dropdown menu.
On the Privileges tab, check the Configure Real-time Scan Settings checkbox under the Scan Privileges section.
Click Save to deploy settings.

Configure the Realtime Scan Exclusion:

Log in to the target computer. Right-click the OfficeScan client icon from system tray and select OfficeScan Console.
On the Trend Micro Officescan console, click Settings and select Realtime Scan.
Check the Enable scan exclusion checkbox and click the Edit button.
Click the Add button for either Directories or Files scan exclusion list.
Type the desired exclusion and click OK three times to complete.

Review the Realtime Scan Settings in the OfficeScan web console.
Do the following to resolve the issue:
Download OfficeScan 10.6 Hot Fix Build 1151 by contacting Trend Micro Technical Support and install the hotfix.
Restore the deformed Realtime Scan Settings:

Log in to the OfficeScan web console.
Go to Networked Computers > Client Management tab.
Highlight the domain of the OfficeScan client and go to Settings > Scan Settings > Realtime Scan Settings menu.
Click Save to deploy the domain settings to clients with inconsistent Realtime Scan configuration.
Internal
Partner