Summary
After adding a second vCentre in Linked Mode to DSM, the ESX/ESXi of one vCentre shows "vShield Endpoint: Not installed".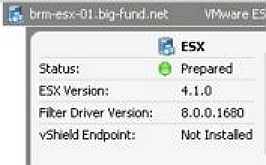 Details
Public
The issue occurs because there is more than one vShield Manager using the same hostname. By default, a vShield Manager is deployed with the hostname "manager", so when a second vCenter is added in linked mode, the two will clash.
To resolve the issue, change the hostnames of all vShield Managers:
Log in to the command line interface (CLI) using the default username and password.
Enter the following to change the hostname:

Manager> en
Password:
Manager# configure terminal
Manager(config)# hostname <newhostname>
Stopping the web manager...
OK
Starting the web manager...
OK
Manager(config)# exit
Manager# copy running-config startup-config
Building Configuration...
Configuration saved.
[OK]
Manager# _
vShield will restart its web services and accept the new hostname.
If the issue still persists, restart the DSM service and re-add the vCenter to the DSM console.
Internal
Partner