Summary
When you install Patch 4 for OSCE 10.5, you encounter the "Installation failed!" error message and the installation does not continue. This problem may also happen when installing other service packs or patches for OSCE 10.6, 11.0, and XG.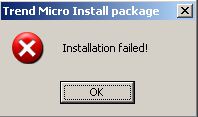 Details
Public
The installation cannot continue because some files are locked.
To resolve this:
Stop all OfficeScan server-related services:

Officescan Primary Service
Officescan Active Directory Integration Service
Officescan Control Manager Agent
Officescan Plug-in Manager ( if PLM is installed )
Trend Micro Local Web Classification Server
Trend Micro Smart Scan Server 

Stop the following processes if they are still running in the background: 

Ofcservice.exe
Dbserver.exe
OSCEIntegrationService.exe
LWCSService.exe
AU.exe
iCRCService.exe
CNTAosMrg.exe
lwcsctrl.exe

Unload the OfficeScan client on the server to unlock any files held by OfficeScan client scanning.
Disconnect any current session with the server. Most issues are caused by OfficeScan clients running ..\PCCSRV\Autopcc.exe via shared location (e.g. \\server\ofcscan\autopcc.exe).
Run the patch or service pack installer again.
If the issue persists, collect C:\Tmpatch.log and submit a case to Trend Micro Technical Support.
Internal
Partner