Summary
Know how Web Reputation Service (WRS) is implemented in Windows 8 and 2012 for WFBS.
Details
Public
The information below shows the new implementation of Web Reputation in Windows 8 and 2012 for WFBS.
Osprey and EagleEye architecture on Windows 8/Server 2012 platform has been implemented in this release. The figure below shows the Network Hooking Mechanism of TmProxy as compared to Osprey: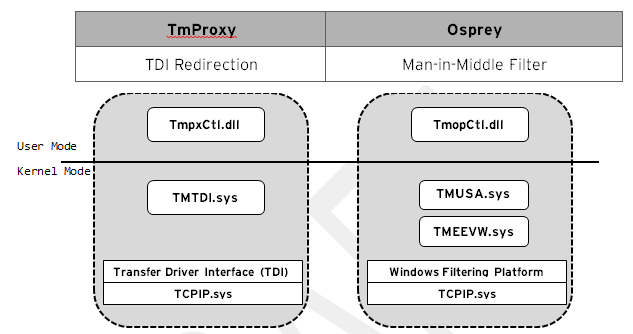 The network hooking mechanism is different in Windows 8/2012. TmProxy uses Transfer Driver Interface (TDI) technology while Osprey uses Window Filtering Platform (WFP) technology. TDI driver needs to reboot the system if there is an update for tmtdi.sys. In the same scenario, WFP driver update does not need to reboot the system since it allows loading and unloading of drivers in the system.
The table below lists the processes and drivers in Windows 8:
| WFBS WRS/URLF | Windows 7 and below | Windows 8/2012 and above |
| --- | --- | --- |
| Process | Tmproxy.exe | Tmlisten.exe |
| Driver | Tmtdi.sys | Tmusa.sys Tmeevw.sys |
Internal
Partner