Summary
Know the recommended SPNAF NS to NetApp filer ratio.
Details
Public
Ensure an average of at least "one AV scanner to one NetApp storage device" ratio, which minimizes any chance of data outages due to AV scanner overload:
Sometimes having one AV scanner server for two NetApp storage devices is sufficient with the exception of heavy loads during peak hours, which could overload the AV scanner server. But depending on the file structure and access pattern, even as many as three servers per NetApp storage device are necessary.
With a 1:1 ratio, we would recommend doing scanning pod. This avoids performance spikes, which may be caused if all NetApp storage devices decide to choose the same AV scanner server at the same time. In this scenario one AV scanner server could become overwhelmed by many NetApp storage devices.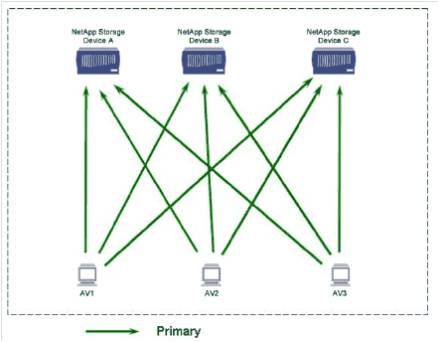 'Scanning Pod" for NetApp storage devices and AV servers having consistent connectivity. All Scan Servers are Primary.
Internal
Partner