Summary
You manage systems with different versions of Worry-Free Business Security (WFBS) such as version 5.0, 6.0, 7.0 and 8.0 because of incompatibilities with the environment. You keep getting a prompt to install an ActiveX control whenever you connect to a different version of the console.
This issue happens because Enable Protected Mode (requires restarting Internet Explorer) is turned on in Internet Explorer properties.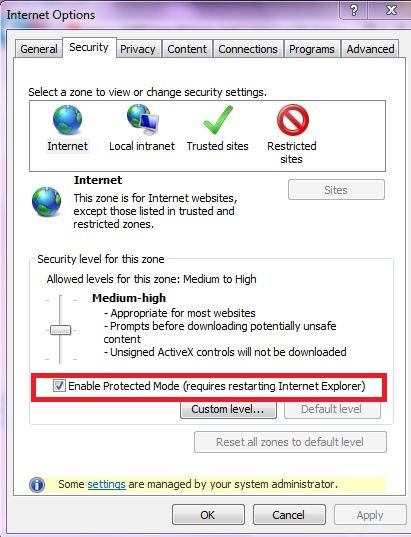 Click image to enlarge.
Details
Public
To resolve the issue, you need to add the Security Server Console address in the Trusted sites. This is to prevent the prompt for installing the ActiveX control from popping up. Do the following:
Open Internet Explorer.
Go to Tools > Internet Options.
Go to the Security tab.
Select Trusted sites under Select a zone to view or change security settings.
Click Sites.
Type the Security Server Console address in the field provided, and then click Add.
Click Close.
Click Apply and then click OK.
Internal
Partner