Summary
The activation of DSA on Amazon Web Services fails, and the Deep Security Manager (DSM) system events log shows the following:
Event ID:705
Event: Activation Failed
Description: An error occurred in the Deep Security Manager to Deep Security Agent/Appliance protocol: IllegalArgumentException: Cannot init a CommandProtocolSession with an empty hostname: , port: 4118, uuid: null.
Details
Public
The issue occurs because the DSM failed to collect the hostname information of all instances running in the Amazon Virtual Private Cloud (VPC) environment.
When DSM connects to the Amazon Elastic Compute Cloud (EC2) management console, the DSM will communicate with the DSA using information in the public DNS only. However, in Amazon VPC, instances do not have a public DNS. This causes the hostname information to be null.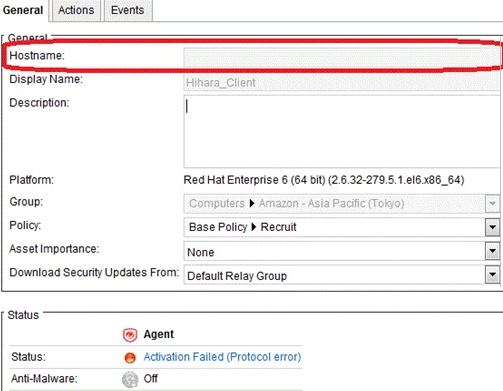 To resolve the issue, apply DSM 9.0 Hot Fix build 4024. Contact Trend Micro Technical Support to get a copy of the hot fix.
For more information about the hot fix, see the DSM Hot Fix B4024 Readme file.
Internal
Partner