Summary
The 1000128 - HTTP Protocol Decoding DPI rule services two main functions:
It contains the logic to decode incoming HTTP requests into the proper pieces required to perform DPI.
It contains the configuration options to use when the DPI engine is performing URI normalization (i.e. ensuring proper URI encoding is used, detecting evasion attempts, etc.).
Learn all about the HTTP Protocol Decoder and its different configuration options.
Details
Public
While the protocol decoding itself requires no configuration by the Administrator, understanding that the decoding done by this rule is essential for other DPI rules to function. You may notice that when you assign other DPI rules to protect your web server itself (i.e. Web Server IIS or Web Server Apache rules) that Deep Security will inform you that this rule is a required dependency. This is basically informing you that proper decoding of the HTTP protocol is required for that rule to be able to protect your system. Also, if you are using the Recommendation Engine to assign your DPI rules, you will notice that this rule is recommended on all systems where a web server is detected.
The URI normalization control portion of the HTTP Protocol Decoder is the tricky part that requires the most tuning. The easiest way to understand the URI normalization performed by the DPI engine is to describe the configuration options available in this rule.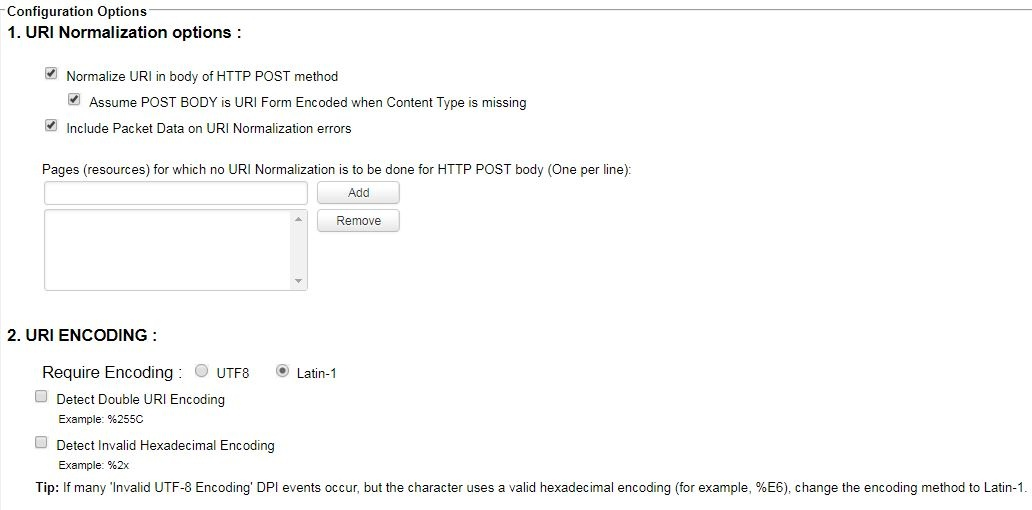 ​
HTTP Protocol Decoding has, by far, the most challenging set of configurable options for any rule within Deep Security. So if you do not plan on using Deep Security to protect your web applications, but require it as a dependency for rules that protect your web server, we recommend that you modify your HTTP Protocol Decoding configuration in this way:
Disable the Use URI Normalization in body of HTTP POST option.
Disable the Block double URI encoded data option.
It is important to note that making these changes will reduce the protection provided by the product but only in the area of web application protection. The HTTP protocol will still be decoded properly and other vulnerability and exploit rules specific to your web server will function normally.
We have moved configuration option Use a custom list of characters disallowed in a URI to a new DPI rule 1008646 - Detect Illegal Characters In URI.
Internal
Partner