Summary
The following error message appears when installing the IDF plug-in for OfficeScan (OSCE) on Windows Server 2008:
An error in the Plug-in Service program occurred. Unable to proceed. The following system components must be installed or upgraded:
Microsoft Data Access Components (MDAC) Version 2.81 or higher is required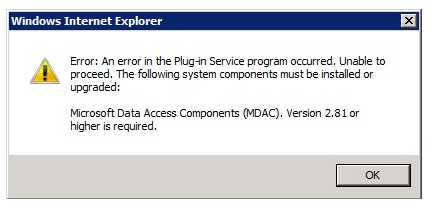 Details
Public
The issue occurs because the installer cannot verify the required version of MDAC.
Normally, HKLM\Software\Microsoft\DataAccess\Version shows the same value as the FullInstallVer key.
To solve this issue:
Open HKLM\Software\Microsoft\DataAccess\Version and change the value to "2.82.3950.0" without the quotes.
Install IDF.
Internal
Partner