Summary
Learn what the Track Policy Usage feature is and the function of the "Last Used" column in the HES Policy page. 
Details
Public
The Track Policy Usage feature indicates the last time a rule was triggered during mail scanning.  This can be seen in the "Last Used" column of the Policy page of the HES console.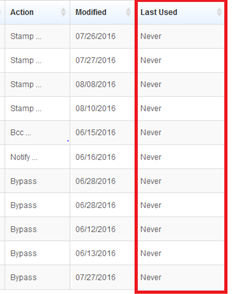 Click image to enlarge.
This feature helps Administrators track the rules that are being used and those that are not used. Rules that are not used should be removed for better policy performance.
It takes about 2 hours before the "Last used" data is reflected on the Policy page.
Internal
Partner