Summary
The following error appears when upgrading or installing the TMSM server:
Error: An error in the Plug-in Service program occurred. Unable to upgrade the Trend Micro Security (for Mac). The product's database cannot be reinstalled. Contact your support provider for help in resolving this issue.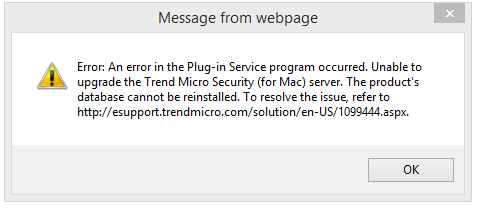 Details
Public
This error may occur due to the following:
If the previous TMSM version cannot remove the SQL server information during the upgrade successfully
If the previous TMSM version installation was corrupted. For example, the SQL database password cannot be decrypted successfully.
To resolve this issue:
Download and extract the TMSM_Uninstall_Tool.zip file to completely remove the TMSM server.
Right-click the remove TMSM.bat file and select Run as Administrator.


 

Install the TMSM server. You should now be able to successfully install the server.  
Internal
Partner