Summary
You want to add two (2) NICs to InterScan Messaging Security Virtual Appliance (IMSVA) and assign IP addresses on the same subnet. This is to send mails for domains using different NIC and IP addresses. For example, mails to users@a.domain.com are sent via NIC 1 while mails to users@b.domain.com are sent via NIC 2. However, the following error message appears:
eth1 and eth0 are in same network. Fordbidden.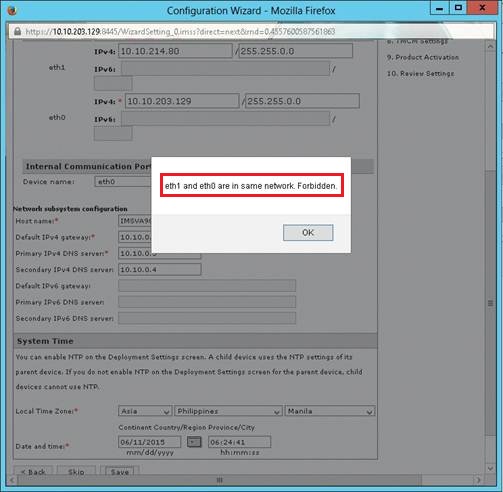 Details
Public
It is not possible to assign IP addresses on the same subnet to these NICs because it may cause a network connectivity problem.
Every router interface or sub-interface represents a broadcast domain. Any L3 device does not forward broadcast by behavior. The IP address configured on an interface will uniquely identify that interface with the broadcast domain and the broadcast domain has to be unique within the network.  Having one interface configured in a broadcast domain limits the router to assign the same domain to another interface.
Manually editing the network interface is not supported as it requires editing parameters of the kernel and route tables. Furthermore it is not tested by QA.
It is recommended to assign IP addresses with different subnets to the two IMSVA NICs and then connect these NICs to different switch or router accordingly.
For more information, refer to the following articles:
Internal
Partner