Summary
This article lists the available commands for Android and iOS in WFBS-SVC.
Details
Public
The following table shows the available commands for Android and iOS: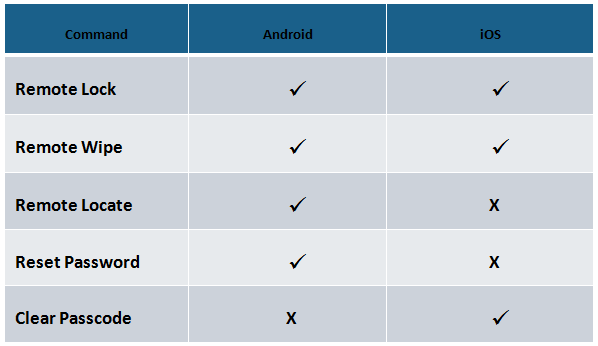 Click image to enlarge
Remote Lock – This command locks the device even if there is no screen lock assigned on the device.
Remote Locate – This command finds the current location of the device. It shows the exact location in Last Known Location under device details.
Remote Wipe – This command factory resets all data on the device plus in external SD card (For Android Device)
Reset Password – This command resets the current password of the Android device. A random generated password will be generated as a new password.
Clear Passcode – This command clears the current passcode of the iOS device.
You can also view  the following video tutorials for each command:
Android
iOS
Internal
Partner