Summary
You are not able to install the Security Agent of WFBS/WFBS-SVC and you receive the error message:
Key not valid for use in specified state.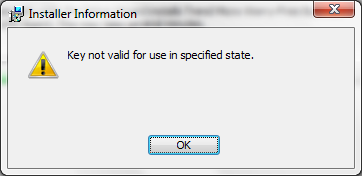 This error message is then followed by:
Installation Unsuccessful. The installer could not extract the required files. Error Code: 221,0x1f4. 
The error message that appears will depend on the OS language used.
Details
Public
The failed Security Agent installation is due to the
Windows update KB2918614 issue
that reportedly causes software installations and upgrades to fail for multiple products that use the Windows installer packages (.msi).
To resolve the issue, you need to remove the Microsoft KB2918614 update:
Open Control Panel and click Windows Update.
Click Update History > Installed Updates.
Scroll down to Microsoft Windows and look for KB2918614.
Uninstall KB2918614 and reboot the computer.
Try to install again the Security Agent. The installation should be successful.
Internal
Partner