Summary
Before the Deep Security Virtual Appliance (DSVA) upgrade, a pop-up notification shows the following warning message suggesting to check and upgrade the Filter Driver: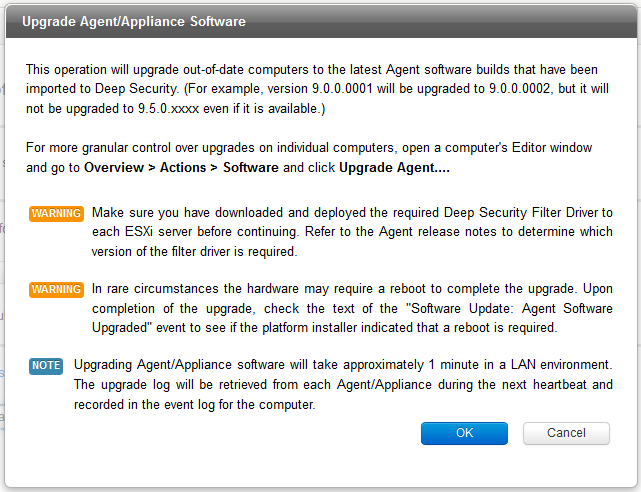 Details
Public
For 9.5 Non-NSX environment, before upgrading DSVA, make sure that the Filter Driver has been upgraded to the latest version, which is compatible to the new DSVA version. Otherwise, the VMs protected by DSVA will show engine offline error.
If there is an engine offline error in Firewall and Intrusion Protection after upgrading DSVA, upgrade the Filter Driver first, then clear the warning message to see if the VM is now online.
When upgrading from Deep Security 9.5 to Deep Security 9.5 SP1, if having the vMotion environment, it is recommended to vMotion the VMs to another ESXi server first, then upgrade the Filter Driver and DSVA. After the upgrade is finished, vMotion back the VMs.
You can download the latest Deep Security Filter Driver (Filter Driver 9.5 for ESX 5.X) from Trend Micro Download Center.
Internal
Partner