Summary
When you install the Notifier of Deep Security 9.5 on a Windows Server 2003 or Windows XP machine, the Notifier displays the agent as "Unknown/Not Available" even when the machine is online in the Deep Security Manager (DSM).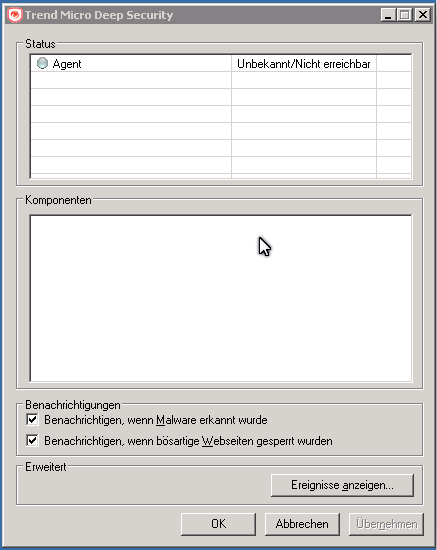 Details
Public
The root cause of this issue is the absence of C:\ProgramData folder in Windows Server 2003 and Windows XP. Microsoft only introduced this folder in Windows Vista and above. The Deep Security uses the C:\ProgramData folder to install the Notifier. Since this folder does not exist by default, Deep Security needs to create the said folder.
To resolve the issue:
Install Hot Fix Build 2775 or above in Deep Security 9.5 Notifier to add the following registry key in Windows XP or Server 2003 machine. Contact Trend Micro Technical Support to get a copy of the hot fix.

HKEY_USERS\.DEFAULT\Software\TrendMicro\Deep Security Notifier\
DWORD: CreateFileFolder
Value: 1

Restart the virtual machine.
The installation will now create the necessary folder and the Notifier will display the correct status.
Internal
Partner