Summary
When the Deep Security Virtual Appliance (DSVA) in a non-NSX environment is upgraded from version 9.5 to 9.6, the following errors may show:
Intrusion Prevention Engine Offline
Firewall Engine Offline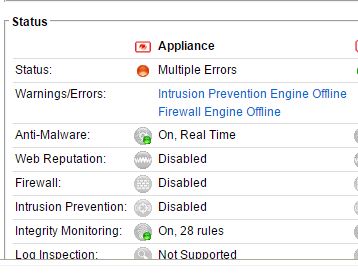 This article only applies to vCNs/vShield with DS96 which does not use network protection (IPS/FW). If you are using vCNs/vShield in DSM 9.6, upgrade DSVA to DSVA 9.5 latest version, not DSVA 9.6 latest version.
Details
Public
The issue happens when the Filter Driver has been removed prior to the DSVA upgrade.
Once the DSVA has been upgraded to 9.6, the issue will be resolved.
Ensure WRS is disabled before upgrading.
Trend Micro never released a new DSVA for Deep Security 9.6. All existing DSVA 9.6 are upgraded from DSVA 9.5 upon applying Deep Security Agent (DSA) 9.6 for 64-bit RHEL6 package.
To upgrade the existing DSVAs to version 9.6, do any of the following options:
Internal
Partner