Summary
ScanMail for IBM Domino for Windows 5.6 SP1 Patch1 is now released and available in Download Center. It is encouraged to upgrade to the most recent version to take full advantage of its new features and performance enhancements.
Details
Public
What's New in SP1 Patch 1
Data Loss Prevention (DLP) template is updated to version 3.1.1005 with "My number" template added.
The description in the Scan Option > APT Prevention Filter is changed from "Detected by Advanced Threat Scan engine" to "Suspicious files detected by Advanced Threat Scan engine" to provide more accurate information.
Web Reputation Service (WRS) is improved to detect hyperlinks that contain ransomware and record these information in the log database.
SMID no longer takes action on a compressed file if it has successfully cleaned the virus from the file.
The attachment filter is improved to filter attachments by extension names even when it cannot retrieve the true file type of the attachments.
SMID is improved to support special messages with wrong format in an email message or sender, for example 

"><..." or "...>".

SMID is capable of recognizing x64 EXE/DLL files correctly.
Queries can be sent to Deep Discovery Advisor for analysis under the following scenarios:

When both the Security Risk Scan > Selected files and the APT Prevention Filter > File with specified types options are selected
When the samples are encoded in UTF-8 or are URL-encoded
If an outbound message does not contain any sender information or cannot retrieve the sender information

End User Quarantine (EUQ) function runs normally when Cluster Trusting is enabled.
SMID can successfully save the latest pattern files in the smdtemp/au/pattern folder.
This patch ensures that the total number of running SMDreal processes is calculated correctly.
This patch enables you to allow only the contents of a single cell to trigger the DLP filter. (Refer to readme file for detailed steps.)
Attachment filter is improved to scan such compressed file that contains files with long path names.
Important Note for DSVA upgrade
This patch is capable of importing DLP templates automatically. Do NOT import DLP templates manually from UI.
File Location
SMID SP1 Patch 1 can be downloaded here under the Product Patch tab.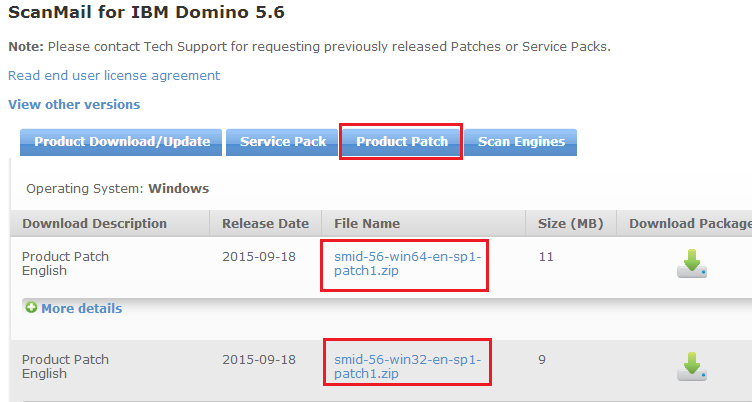 Internal
Partner