Summary
Allowed software via CSSL is being blocked by the Lockdown rule. This can happen if the SHA-1 hash of extracted installation files in the user profile temp folder (e.g. %TEMP%) is neither in CSSL pattern nor in the agent's local inventory scan database.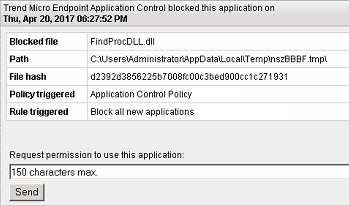 This prevents the software from being installed, as a result.
The CSSL pattern contains known good application hashes sourced directly from the software vendor. Trend Micro automates the harvesting of all software patches from different vendors into our database, but there are some applications that are done manually. Despite the effort to keep our CSSL pattern up-to-date, it is possible that there are hashes being missed particularly installation files because they vary in terms of SHA-1 hash value and are removed immediately during or after installation of the software.
Details
Public
Internal
Partner