Summary
You encounter the Internal Server Error with HTTP Error 500.19 in OSCE:
The requested page cannot be accessed because the related configuration data for the page is invalid.
Detailed Error Information:
Module: DynamicCompressionModule
Notification: SendResponse
Handler: StaticFile
Error Code: 0x8007007e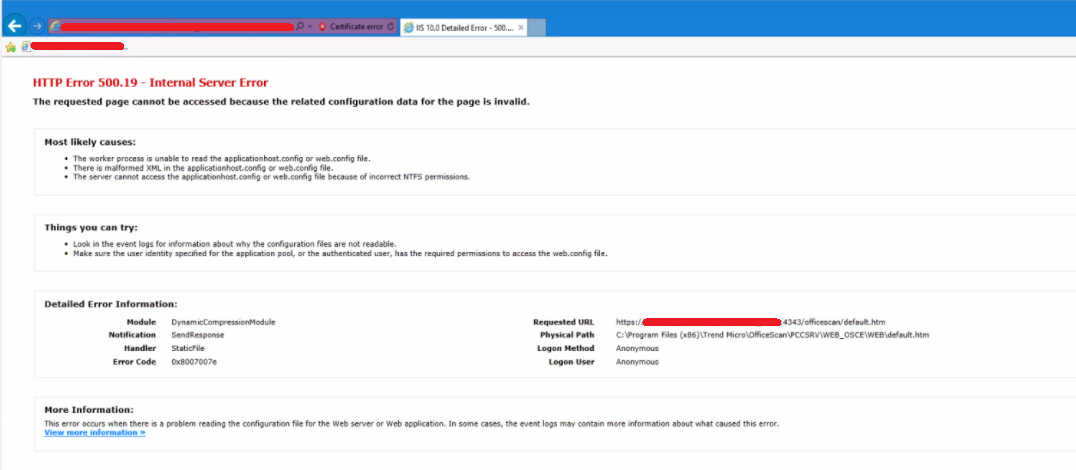 Details
Public
This usually happens when the OSCE server is installed in the same box as Windows Server Update Services (WSUS).
Error Code 0x8007007e is:
ERROR_MOD_NOT_FOUND – The specified module could not be found.
Based on the Detailed Error Information, the DynamicCompressionModule module is causing the trouble. This is because of the XPress compression scheme module (suscomp.dll) that gets installed with WSUS. Since compression schemes are defined globally and try to load in every application pool, it will result in this error when a 64-bit version of suscomp.dll attempts to load in an application pool running in 32-bit mode.
Do either of the following to resolve the issue:
Remove/Disable the XPress compression scheme from the configuration:

Open Command Prompt.
Navigate to "%windir%\system32\inetsrv".
Run the following command:

"appcmd.exe set config -section:system.webServer/httpCompression /-[name='xpress']"

Use a 32-bit version of suscomp.dll.
Internal
Partner