Summary
THREAT INFORMATION
Lukitus Ransomware is a new variant of Locky Ransomware that encrypts user's data and appends the [.]lukitus file extension. Lukitus Ransomware encrypts personal photos, videos, and documents of the victim and changes the names of the files into random characters and numbers, followed by the [.]lukitus file extension.
ARRIVAL AND INSTALLATION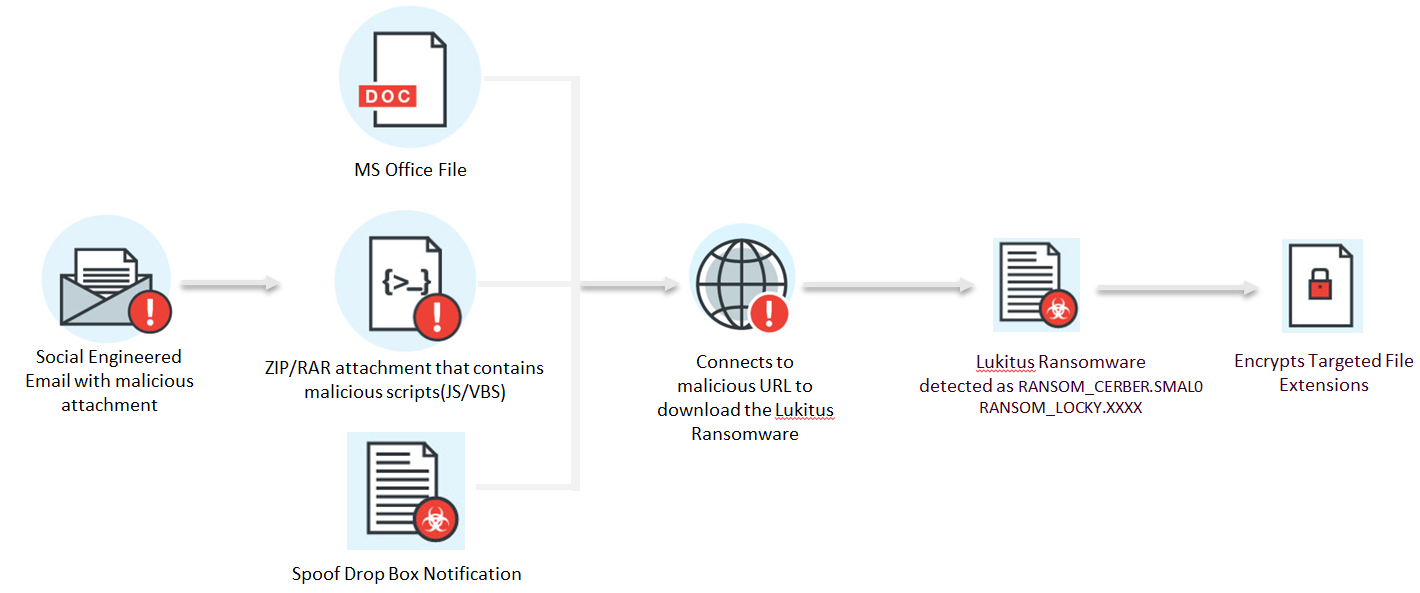 Lukitus Ransomware infection chain
The infection chain of Lukitus Ransomware begins with a socially-engineered email that contains a malicious MS Office file or a ZIP/RAR attachment with embedded malicious JS/VBS scripts. It may also arrive as a spoof drop box notification email.
When the malicious file is executed, it connects to a URL hosting the main ransomware file (Lukitus) and downloads it. Then, it encrypts the files as well as the network shares on the machine. The main binary of the ransomware then self-destructs after executing its payload.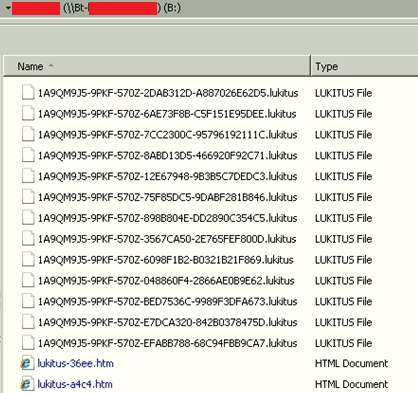 Encrypted files by Lukitus Ransomware

Lukitus Ransomware Ransom Notes
Details
Public
TREND MICRO PRODUCT SOLUTIONS
Below are the available Trend Micro product solutions for Lukitus/Locky Ransomware:
BEST PRACTICES FOR IT ADMIN
Optimize email security. Blocking malicious emails at the gateway level before they can even reach the users will help prevent malware infections.
Review the need for VBS and JS scripting in the machine. If it is not needed, you can disable it to reduce the risk of malware infection.
Enable file extension in Windows. The default Windows setting has file extensions disabled. This means that you have to rely on the file thumbnail to identify it. Enabling extensions makes it much easier to identify file types that are not commonly sent, such as JavaScript or VBScript.
Don't enable macros in MS Office file attachments received via email.
Restrict write permissions on the file server if possible. Ransomware encrypts files for both local and network shares with write permissions.
Back up files. Cybercriminals use the potential loss of important and personal data as a fear-mongering tactic to coerce victims into paying the ransom. Organizations and end users can back up files to remove their leverage. Keep at least three copies, with two stored in different devices, and another in an offsite or safe location.
Do Patch Management. It is highly recommended to keep application patch levels up-to-date as a lot of malware use these vulnerabilities to compromise your machine. Examples of critical applications are Java, Adobe, and your Internet Browser.
Educate users about social engineering attacks. Getting infected by Ransomware is an indication that the user is not security aware. The user may receive spam mail and open the attachment without knowing the risks involved.
Internal
Partner