Summary
This article explains how to enable Case Diagnostic Tool (CDT) and collect CDT logs in Apex One™ as a Service.
Details
Public
To enable CDT and collect CDT logs:
In addition to the CDT tab, you may notice that there are other options.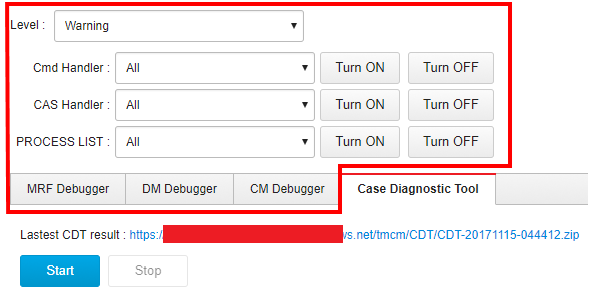 Only use the CDT tab and leave the other options for advanced use reserved for Trend Micro Technical Support.
The scope of CDT collection includes the following:
Basic information
TMCM DebugLog files
TMI DebugLog files
TMCM configuration files
TMI configuration files
TMCM Installation DebugLog files
TMCM Uninstallation DebugLog files
AgentMigrationTool DebugLog files
All Dr. Watson Log and Memory Dumps
ActiveUpdate Logs
IIS Logs
Reproduce the issue.
Copy the link and forward it to Trend Micro Technical Support.
Internal
Partner