Summary
The MegaCortex ransomware first appeared in January 2019 with few interesting attributes, including the use of a signed executable as part of the payload, and an offer of security consulting services from the malware author. The ransomware used both automated and manual components to infect as may victims as possible. The MegaCortex ransomware is being targeted at corporations rather than individual users and may possibly be leveraging networks that have already been compromised in a previous attack using Emotet and Qakbot malware.
Capabilities
Information Theft
File Encryption
Disabling usage capability
Infection Routine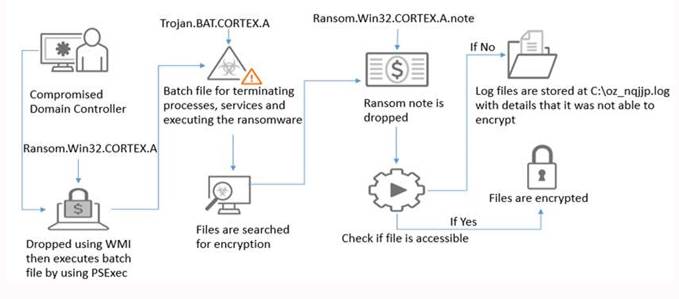 Once a vulnerable domain controller is compromised, the attacker configures it to drop a batch file, PsExec, and winnit.exe-which is the core malware file component to other machines. Upon execution of the batch file, this will terminate Windows processes and any other services that can halt or prevent the ransomware's execution flow. The batch file then executes the main malware component –winnit.exe which searches for files that can be encrypted. A DLL with a random-generated filename is also extracted and ran with rundll32.exe. The said DLL is the one responsible for file encryption. It then will check whether the file is accessible for it to be encrypted and if not accessible after several attempts this will be logged on C:\oz_nqjjp.log
Target Extension:
.dll
.exe
.sys
.mui
.tmp
.lnk
.config
.manifest
.tib
.old
It avoids encrypting files found in the folder %Windows%.
Ransomnote:
Details
Public
Available Solution
VSAPI and TrendX
VSAPI/SMART
Pattern
Detection/Policy/Rules
Pattern branch/version
Released date/time
TrendX
Troj.Win32.TRX.XXPE50F13007
TROJ.Win32.TRX.XXPE50FLM005
N/A
April 16, 2019
VSAPI
Ransom.Win32.CORTEX.SM
Ransom.Win32.CORTEX.A
Ransom.Win32.CORTEX.B
Ransom.BAT.CORTEX.D
Worm.BAT.CORTEX.A
Trojan.BAT.CORTEX.A
Ransom.BAT.CORTEX.B
Ransom.BAT.CORTEX.A
Ransom.Win32.CORTEX.A.note
ENT OPR 14.989.03
May 9, 2019
Behavior Monitoring
Behavioral Monitoring
Pattern
Detection/Policy/Rules
Pattern branch/version
Released date
AEGIS
PA5965S - checks for the dropped ransom note and .tsv file in rootdir
TMTD OPR 1899
May 10, 2019
AEGIS
RAN2922S - Multiple Forced Taskkill Commands
TMTD OPR 1899
May 10, 2019
Anti-Spam and Web Protection
Email Protection
Subject
MD5
Pattern branch/version
Released date
N/A
N/A
N/A
N/A
URL Protection
URL
Category
Blocking Date
N/A
N/A
N/A
Solution Map
Product
Version
Virus Pattern
Behavior Monitoring
TrendX
Apex One and Apex Central
SaaS and On Premise
Turn On Real Time Scan via Apex Central
Turn On Ransomware Protection Features via Apex Central
Turn On Predictive Machine Learning via Apex Central
OfficeScan
XG and above
Turn On Real Time Scan/ Update Patterns via Web Console
Turn On Ransomware Protection Features /Update Pattern via Web console
Turn On Predictive Machine Learning via Web Console
11 SP1
Turn On Real Time Scan/ Update Patterns via Web Console
Turn On Ransomware Protection Feature/Update Pattern via Web console
 
Deep Security
11
Enable Anti-Malware Policies and Turn on Real Time Scan in Deep Security Manager
Configure Anti Malware Policies and Enable Ransomware Protection Modules in Deep Security Manager
Enable Predictive Machine Learning in Deep Security Manager
10
Enable Anti-Malware Policies and Turn on Real Time Scan in Deep Security Manager
Configure Anti Malware Policies and Enable Ransomware Protection Modules in Deep Security Manager
 
Worry-Free Business Security
Services (SaaS)
Turn On Real Time Scan via Web Console
Turn On Ransomware Protection Features via Web console
Turn On Predictive Machine Learning via Web Console
10 and Above
Turn On Real Time Scan/ Update Patterns via Web Console
Turn On Ransomware Protection Features /Update Pattern via Web console
Turn On Predictive Machine Learning via Web Console
Recommendations
Threat Report
Threat Report: Ransom.Win32.CORTEX.A
Blog
Internal
Partner