Summary
When Customers use their Business Support Portal (BSP) to help them to create a new support ticket, to ensure that the ticket is routed to the appropriate support team, it is advisable to select the correct Trend Micro product. This should help customers receive a timely response from the specific Customer Support Engineer (CSE).  
This article will enumerate the steps on how to correctly create a profile for a specific product and then create a support ticket for that if required.
Details
Public
When you log in into My Support, you will be presented with the 'New Request' screen.

Here, you can create and manage different profiles, it is advisable to create separate profiles for each of the Trend Micro products you have in your environment.

Here are the steps to create a new profile:

You should now be able to create a New Request and submit this as a support ticket.

As shown in this example, in the Product Profile field, "Apex One as a Service" has been selected with an Affected Operating System of Windows 10. You can choose other operating systems if you had already included those when you were creating the profile.

Other options include Issue Category, Subject and Description.

Once you are satisfied with the description of the issue you are having with a Trend Micro product, you can then choose to Submit the issue into the Trend Micro Technical Support Ticketing System.

Once submitted successfully, you will receive an automated email with the ticket details including a case reference number. A customer support engineer will then be in touch with you in due course.
Please take note that if you make a mistake in selecting a product, you can choose to delete the previous selection and replace it with the correct product.
This can be done by selecting My Products & Services under "My Account":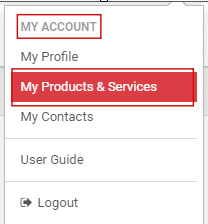 You may choose either the Edit button or the Trash button, if you decide to delete the selection.

Internal
Partner