Summary
Deep Security Agents are configured with a list of Deep Security Manager (DSM) and Deep Security Relays (DSR). When multiple managers and relays are deployed without a load balancer, agents will automatically contact the managers and relays using a round robin sequence.
To better scale the network, user can put a load balancer in front of the managers or relays. When you configure the load balancer hostname and port numbers, it will override the IP address or hostname and port numbers currently used by the agents. This ensures that the Deep Security continues to function even if one of the Deep Security Manager or Relay nodes fails or is down for maintenance or upgrades.
This article will use Amazon Elastic Load Balancing (AWS ELB) to demonstrate the concept.
Details
Public
Background on AWS Elastic Load Balancing
AWS Elastic Load Balancing can automatically distribute incoming traffic across multiple DSM. The traffic can be in a single Availability Zone or across multiple Availability Zones, which depends on your DSM design.
AWS ELB offers three (3) types of load balancers - Application Load Balancer (ALB), Network Load Balancer (NLB), and Classic Load Balancer (CLB). Among these, the Application Load Balancer is the best suited for load balancing of HTTP and HTTPS traffic.
To have a better load balancing throughput, we highly suggest customers to use HTTPs protocol of ALB type for Load Balancer Manager and Relay, as well as TCP protocol of NLB type for Load Balancer Heartbeat.
AWS ALB provides the following advanced features:
Load balancing to multiple ports on the same instance
IP addresses as targets
SSL offloading
Load balancer stickiness
Topology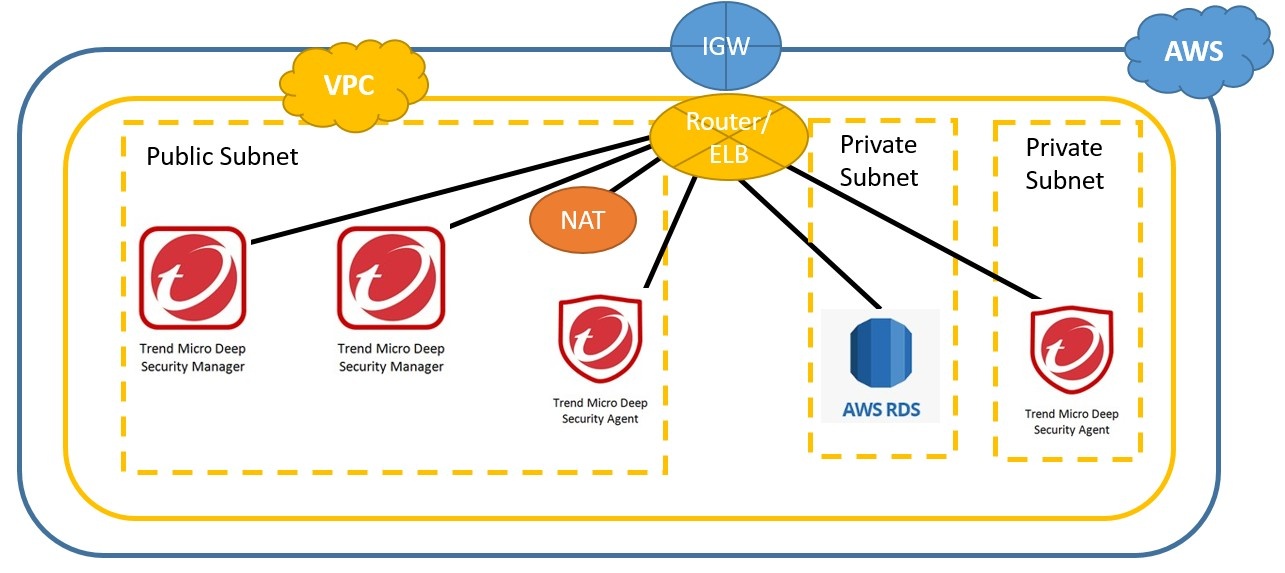 Test Environment
The procedure below uses the following:
DSM: Deep Security 11.0.340
DSA: Deep Security Agent 11.0.0-662 for Windows-x86_64
AWS VPC: Public subnet & Private subnet.
AWS ELB & Protocol: ALB (HTTPS) and NLB (TCP)
Database: AWS RDS, MS SQL 2016 Standard Edition
Browser: Chrome is recommend
Detailed Procedure
​
Internal
Partner