Summary
The following error message appears when you do a web install using Internet Explorer 10 with OfficeScan: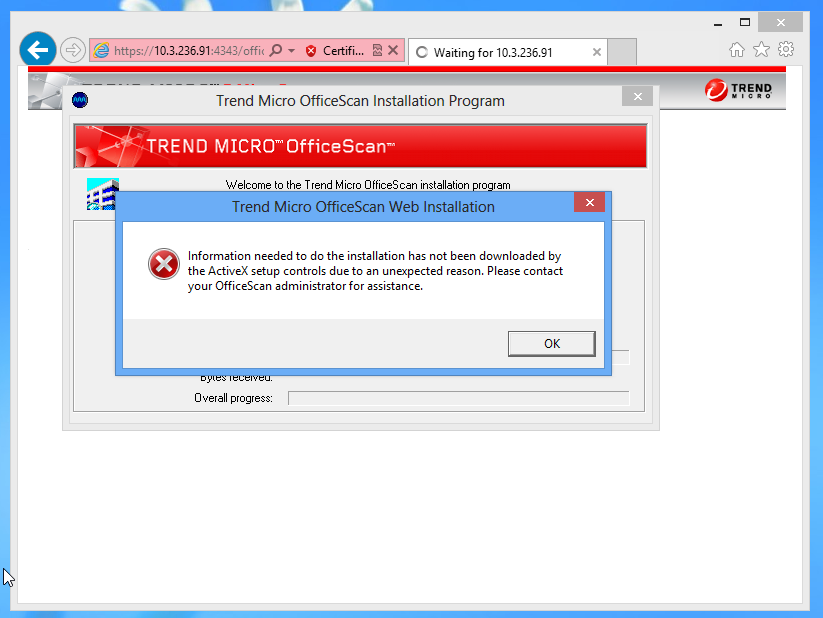 Information needed to do the installation has not been downloaded by the ActiveX setup controls due to an unexpected reason. Please contact your Officescan administrator for assistance.
Details
Public
Important:
On IE 10, make sure you are running it on Desktop mode for Win8/Win2012 and logged in as Administrator.
On IE 9, additional step is needed: You need to disable Active X filtering.
Do the following:
Open Internet Explorer.
Click the Tools menu then click Internet Options.
On the Security tab, click the Custom level button.
Scroll down the Security Settings list until you see ActiveX controls and plug-ins.
On Automatic prompting for ActiveX controls, choose Enable.
Scroll down to Download signed ActiveX controls and click Enable or Prompt.
Scroll down to Run ActiveX controls and plug-ins and click Enable or Prompt.
Scroll down to Script ActiveX controls marked safe for scripting and click Enable or Prompt,
Internal
Partner