Summary
The error message "Please install .Net Framework 3.5 or later before installing Control Manager 6.0 Service Pack 2" shows during installation.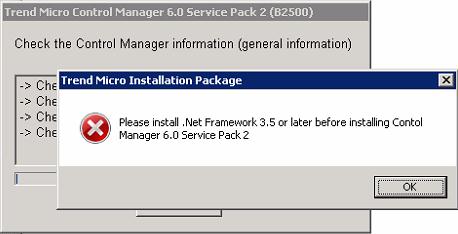 Details
Public
The error occurs because the .Net Framework 3.5 feature is not installed. To solve the issue, install it on the TMCM server:
On the Start menu of Windows, click Server Manager.
In the Add Features Wizard, choose .Net Framework 3.5.1 as shown below:

Click Next and use the default settings to install.
Internal
Partner